Facebook to offer vanity URLs
Who wants facebook.com/imceobitch?
---
Facebook is letting users customize their profile URLs starting this weekend. Vanity web addresses will be dispensed on a first-come-first-served basis, replacing the random string of digits used by the social networking site now.
Starting Saturday, June 13 at 12:01 a.m. EDT (4:01 a.m. GMT), Facebook users may procure a custom username for their profile's URL by heading to www.facebook.com/username/.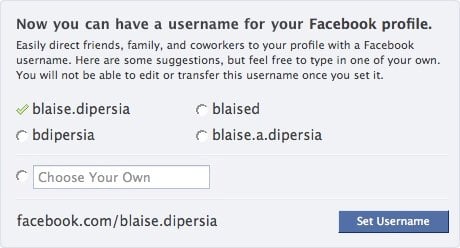 Image courtesy Facebook
Custom usernames will be limited to alphanumeric characters or a period (".") and must be at least five characters in length. While the change doesn't appear mandatory at present, keep in mind there's Facebook's 200 million-plus users to compete with over potentially popular handles. God help ye, John Smiths of the world.
Facebook names will appear on the profile's URL as something like: www.facebook.com/jonathan.trundle/.
The idea according to Facebook's official blog, is to make it easier for friends, family, co-workers, and even search engines to find your profile without extraneous scouring of the site. Putting the user's handle on the URL isn't exactly a new concept for social networking sites (hello Twitter and MySpace). But, hey, Facebook's the biggest of them all.
Here's the catch: Once a user modifies their URL, it cannot be changed or transferred. That's likely an attempt to cut down on folks attempting to flog a popular or celebrity profile name on eBay. Facebook also says users who sign up for a custom page after May 31 or a user profile after today may not be able to sign up for a username immediately as a means of preventing URL squatting.
While the company provides a link to prevent protected trademarks from being registered as usernames, there's no word if its taking steps to prevent names of celebrities and public figures from being scooped up by impersonators. That should make things rather interesting come Monday. ®