Texas cop tasers gobby granny
Speeding ticket spat ends with a shock
---
A gobby 72-year-old Texas great-grandmother who got a bit physically "non-compliant" after being pulled for speeding copped a light tasering for her trouble, ABC reports.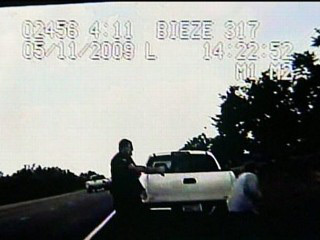 Officer Chris Bieze collared Kathryn Winkfein en route to Austin doing 60mph in a 45mph zone. The Travis County "dashcam" vid - shot in May but released this week - shows her rather testily getting out of her vehicle to confront Bieze after refusing to sign the speeding ticket.
She requests: "Give me the fucking ticket now."
Bieze responds by shoving the fuming septuagenarian "to keep her out of traffic whizzing by", as he later explained.
Winkfein protests: "You're gonna shove me?! You're gonna shove a 72-year-old woman?"
Bieze replies: "If you don't stand back, I'm gonna tase you."
Winkfein suggests: "Go ahead, taser me."*
After issuing a few more warnings, Bieze walks it likes he talks it, and takes granny down (see pic). She's seen screaming on the floor as Bieze inists: "Put your hands behind your back or you're going to be tased again."
Winkfein suffered no serious harm during her encounter with electric justice, and was cuffed and charged** with resisting arrest. She later protested: "I was not argumentative. I was not combative. All of this is a lie. Every bit of this is a lie."
Bieze's boss insisted his 'leccy-happy subordinate had done everything "by the book". You can judge for yourselves here. ®
Bootnotes
*Interesting point here: Is the verb to tase or taser? Andrew Meyer, of course, favours the former.
**Yeah, I know. Feel free to make merry with that one.