This article is more than 1 year old
Whizz for Atoms: inside Intel's next netbook generation
Picking up the 'Pine Trail'
Intel's Atom initiative may have proved successful so far, but the chip giant has done itself no favours by releasing two versions of the chip.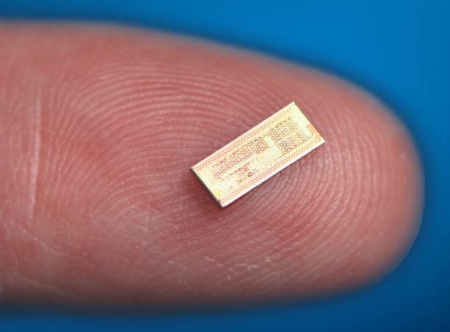 Intel's Diamondville: Pineview will be bigger, thanks to the on-board GPU and memory controller
Atom is currently available in two forms: 'Silverthorne' and 'Diamondville'. One's for handheld internet tablets - what Intel calls Mobile Internet Devices (MIDs) - and the second for netbooks and, in a dual-core form, for desktops. Nice and clear cut product differentiation, but you can buy netbooks based on Silverthorne chips, which are sold as Intel's Atom Z series.
And it doesn't look like that situation is going to change any time soon. Intel recently revealed a little more about 'Pine Trail', the next release of its netbook-centric Atom CPU and chipset combo series, and it bears a remarkable resemblance to 'Moorestown', the follow up to the Atom platform for MIDs.
Pine Trail comprises the 'Pineview' processor and a chipset, 'Tiger Point', connected over a DMI (Direct Media Interface) link. Pineview inserts a GPU and a memory controller into the CPU package - Intel isn't saying whether they're on the die or simply stashed in the same ceramic - allowing Tiger Point to focus solely on I/O operations.
Incidentally, Pineview's CPU core is called 'Bonnell', which is the overarching codename for the core design employed by 'Silverthorne' and 'Diamondville' - and by Moorestown's 'Lincroft' CPU core and the one in Moorestown's system-on-a-chip successor.
Intel stresses that this is three chips becoming two, with the middle part of the old CPU-northbridge-southbridge tryptic being cut out of the picture. That, it says, means lower costs to machine makers, lower power consumption and improved performance, though the latter's not entirely a result of the integration.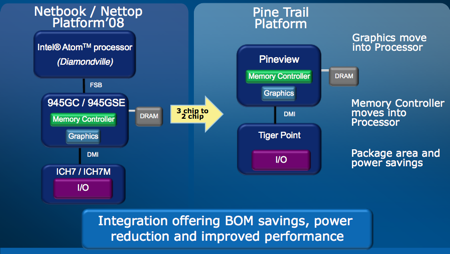 Atom evolution: from Diamondville to Pine Trail
Pine Trail's due in Q4, Intel has said, but its sticking with its 2009-2010 release timeframe for Moorestown. Like Pine Trail, Moorestown comprises Lincroft and an I/O chip, 'Langwell'. There's no, more narrow, window for Moorestown's launch, but Pine Trail looks like it will debut in October, presumably to allow manufacturers to get new netbooks out in time for Christmas.