Leccy Tech London's leccy van users have locked arms in the hope of persuading the city's petrol and diesel van drivers to support Mayor Boris Johnson's initiative to make London the world's e-vehicle capital.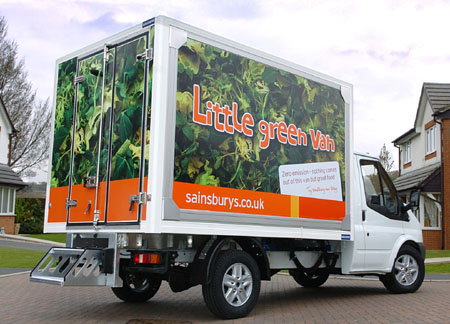 Sainsbury's already uses e-vans and plans to support the project
The plan is that all of the capital's leccy van users will share information and operational experience with one another – and with potential e-van buyers - in an effort to increase London's commercial electric van numbers.
Shipping company TNT will lead the project. The firm already has more than 100 e-vans in use across 23 UK towns and cities – apparently the single largest leccy delivery fleet in the world.
Sainsbury's has also placed an order for 50 Smith Edison e-vans, bumping the supermarket chain's existing fleet of London-based home delivery e-vans to 62.
Others taking part in the initiative include logistics firm DHL, which already runs several electric vans, and bus company Go-Ahead, which operates a range of Smith EVs in support of its Metrobus passenger bus fleet.
While e-vans may not be the sexiest end of the EV business, it's the sort of nuts and bolts activity that could help develop EV uptake in the immediate future and provide examples of how prospective e-van buyers can successfully operate leccy van fleets.
Tyne & Wear-based Smith Electric Vehicles - manufacturer of the Edison e-van - will, unsurprisingly, keep a close eye on the project. Why? Because Johnson's London e-vehicle initiative also includes purchase of 1000 EVs for the Greater London Authority's fleet. ®
Sponsored: Webcast: Ransomware has gone nuclear