Tennis elbow is no longer the preserve of Murray and Federer, because a Wii peripheral has been served up that's... well... a tennis racket with integrated Remote.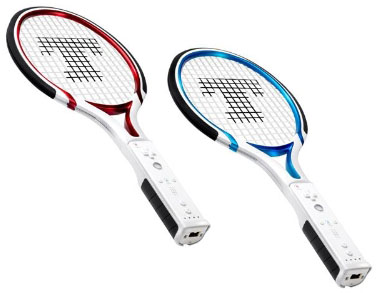 Thrustmaster's Tennis Duo Pack NW
The concept behind the Tennis Duo Pack NW is simple: just slot your Remote into either racket's handle and you're ready to serve virtual backhanders, drop shots and forehanders to players across a range of Wii tennis games.
The peripheral's manufacturer, Thrustmaster, claimed that the set provides gamers with "ideal string and grip positioning".
Thrustmaster also said the peripherals offer "enhanced positional awareness" – no doubt a result of holding a bloody great tennis racket instead of Wii Remote.
Just make sure you don't swat the TV now your reach is that bit further.
One of the rackets is blue, the other red, but both feature shockproof foam edging – which might protect the family cat somewhat should the racket slip from your grip.
It's worth noting that the set is also compatible with Nintendo's new MotionPlus add-on.
Thrustmaster's Tennis Duo Pack NW will be available later this month, priced at $25 (£15/€18). ®