World Copyright Summit There were lots of interesting tidbits from the biennial Copyright Summit, which didn't make it into the main coverage but are too interesting not to share. Here's a round-up.
Starving, hysterical, naked
Cary Sherman, president of the RIAA, reminded me that he was a pupil of Professor Charlie Nesson, founder of the Berkman Center for Psychedelic Performance Art (and Law).
I didn't know that.
Nesson is now in litigation against the RIAA - using a spectacularly misjudged defence tactic, which if successful would make all downloading of anything legal. (Sherman graduated from Harvard Law School in 1971, two years after Nesson got tenure at the faculty).
I should have asked Sherman if, given the state of Nesson's own faculties - and here's a recent Twitter post by Charlie...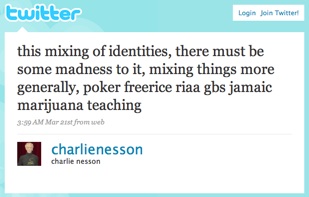 ...whether the RIAA had put him up to it.
Nesson's blog is utterly riveting, though - you have to give him that.
---
L'État C'est Moi
The last Copyright Summit in Brussels two years ago was busier, but it's not hard to see why.
There are now around 700 countries in Europe (fact!) - which means it's home to around 3,000 collection societies (fact!). Also, each collection society is required to retain at least one Professional Whinger (fact!) who attends each collection society AGM or Copyright Summit, and during the Q&A sessions makes a long declaration in their native language. Elbonian is guaranteed to flummox any translator.
But DC is a long way away from Europe, and the exchange rate is lousy, and so these heroic mini speeches were much less of a feature this year.
In the utopian state of Freetardia, of course, each person is their own collection society, and has no reciprocal arrangements with anyone else.
---
Broadband is booming, but...
Dr Yong-Kyung Lee, head of Korea Telecom and a policy advisor to the Korean government, amazed delegates with his descriptions of high tech Korea. Lee was a Bell Labs R&D guy for years, but for the last decade has had an entire country to play with.
But one factoid emerged unscripted.
There are now 100 hospital centres to treat people for internet addiction in Korea, he told us casually.
This brought gasps of astonishment from the audience, as well it might. Can anyone confirm this? Have you checked into a Korean internet addiction centre recently? If so, send us an email. In fact, send us an email if you're in Korea and had an accident and were looking for A&E, or were visiting a relative, but wandered into a Korean internet addiction centre by mistake. We don't care. We want to know more.
When Carter's Digital Britain report is published, we'll look out to see if the therapy industry will be rewarded here, as it is over there.
It's going to get Britain booming again.
---
WIPO's blind spot
The World Intellectual Property Organisation is considering mandatory exemptions for the first time, and one of these is for blind users of copyright material. This has divided opinion among copyright holders, and it enraged Eduardo Bautista, former President of CISAC's Executive Bureau, and chief of a Spanish collection society.
He gave up on his attempt to engage in incomprehensible English and vented with passion in Spanish. He was upset that the exemption was the beginning of the end of copyright as we know it. It was the nose under the tent - and that nose belonged to a freetard camel.
But not everyone agrees.
I'm sorry but that's bollocks, said UK Music's Feargal Sharkey in as many words. Feargal pointed out we'd had a UK visual exemption for a decade, and everyone got along with it just fine. There were more pressing matters - such as sorting out workable businesses on the internet before everything went titsup.
Eduardo didn't like this.
"We should not let the internet dictate our agenda," he declared.
Then, oddly, Eduardo said that next year, we wouldn't be talking about copyright any more. Why? Because we'd all be talking about Global Warming.
Who says old-school, collection society veterans are out of touch? The Spanish music industry is in such dire straits, there won't be anything to collect soon.
---
The Android's Dungeon
I felt a bit sorry for the Public Knowledge representative called Brian, a summer intern at the DC agitprop outfit. The internship is sponsored by Google, under what it calls a Policy Fellowship - a program that parachutes students into sympathetic organisations, who spend a lot of time lobbying for Google while posing as "citizens' groups".
(This is how consensus is manufactured.)
Brian fits the bill perfectly. He describes himself as a "Copyfighter". A burning sense of injustice is required for the job. He was a Daniel amongst the Lions, or so he must have thought.
Brian nodded so vigorously during Michael Heller's presentation (Heller filled in this Summit's Lessig spot - they're broad-minded to a fault at CISAC), I worried his head might fall off. Brian silently applauded the announcement that Hadopi, aka Three Strikes, had been ruled illegal. He looked around, but nobody had joined in - not even silently.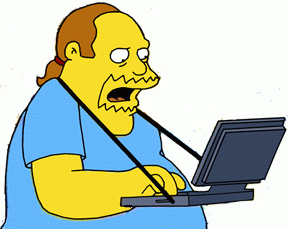 With a paunch and a pony tail, Brian bears more than a passing resemblance to the Comic Book Store guy from The Simpsons. See for yourself on his bio, wherein he discloses that:
"...he even managed a Wizards of the Coast game store during the Pokemon craze, and to this day still plays too many games."
Any further comment from me is completely unnecessary. ®
Similar topics