This article is more than 1 year old
Paris Airshow kicks off
Ils montent diddly vers le haut et encore vers le haut
Paris Airshow Yesterday saw the opening of the biannual Paris Airshow (or more correctly the Salon du Bourget Air et Espace). Like its British counterpart at Farnborough, held in alternate years, Paris is a technology show as much as it is an aviation one - not to mention the fact that the aerospace world is joined at the hip to the world of death-tech. Thus it is that the parsimonious Vulture overlords have reluctantly agreed to despatch the Register flying-car and killer robot desk to a grey and drizzly Le Bourget, for a few days poking about among the flacks, hacks, fat cats, big wigs, booth babes and test pilots.
To start things off, here are a few pics from around the show. As ever, there's a wide selection of greenwash on offer. Continental arms'n'aerospace megacorp EADS has taken a note from the motor trade's use of "blue" to signify "green", offering the "bluecopter" eco-whirlybird concept. (With cars, "blue" often means literally that a weak solution of urine will be squirted out of the exhaust pipe in order to purify its noxious emissions. That would also be the case with Bluecopter, which would replace the usual turboshaft engine with a turbodiesel.)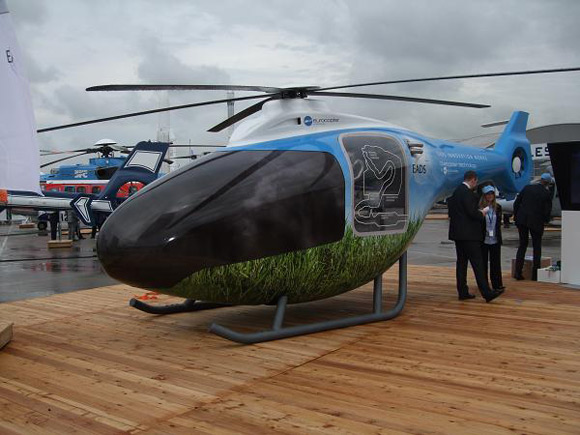 You don't get downwash with the Bluecopter.