This article is more than 1 year old
Israel to test ducted-fan robot air jeep 'within two months'
Auto-stabilised for windowsill boarding
Paris Airshow Israeli developers working on a ducted-fan flying hovercar say that a full-size, turbine driven unmanned prototype will fly "within two months". Flight tests with a smaller electrically-driven model, they say, have validated their basic technology.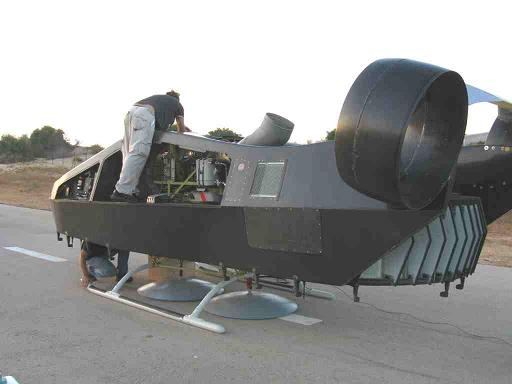 Sorry sir, your flying car isn't quite ready yet.
The Reg flying-car desk spoke today with Janina Frankel-Yoeli, marketing veep at Urban Aeronautics of Israel, at the Paris Airshow. Urban Aeronautics prefer to call their designs "fancraft", thereby distinguishing them from hovercraft, which can't actually fly.
"We've solved the three basic problems of ducted-fan craft," he says. "Our craft are stable, they can lift heavy loads, and they can fly fast - better than 100 knots."
Various ducted fan designs were tested for the US forces decades ago, and it was widely expected in some circles that "air jeeps" would soon supersede helicopters - and also take on many tasks that helicopters couldn't tackle, such as access to and from built-up urban areas.
The old US designs were marginal in terms of performance, however, and difficult to control. They never progressed beyond testing.
Frankel-Yoeli says it's a different world now. In particular, he argues that Urban Aero's patented arrays of control vanes above and below the lift fans make the craft hugely more stable and controllable. He demonstrated how, as the small "Panda" electrical prototype is tilted (as by someone boarding from a windowsill four floors up, for instance, in the case of a full-size manned version) the vanes automatically swivel to redirect the airflow.
Urban Aero say that the vanes, combined with modern fly-by-wire control electronics, will beat the stability problems that bedevilled their fancraft predecessors. The system will also allow an Urban Aero Mule or future manned X-Hawk to manoeuvre in any direction and rotate about its vertical axis without the need to tilt its thrust discs.
"Its great advantage is in urban areas," says Frankel-Yoeli. "Not just for military missions. Imagine a car accident, with both lanes of traffic blocked. A normal ambulance can't get there. A helicopter has no room. But we can land on the pavement."
The Israeli fancraft ticks a lot of flying-car boxes. It takes off and lands vertically, hovers, and can manoeuvre about between buildings without crashing blades into them.
All that said, Urban Aero "fancraft" still aren't shaping up as flying cars just yet. Large models capable of carrying people need to be powered by noisy gas turbines, unacceptable in residential areas. Then, the design is dominated by the need to keep the fan discs large - enough to seriously affect the useability of the craft. (This is why helicopters and tiltrotors have so far been the only serious vertical-takeoff craft: they can have nice big, efficient thrust discs.)
There's also the fact that it's pretty difficult to get mainstream aerospace and military people to take ideas like this seriously. Bell Helicopter in the States actually decided three years ago that it would take up the job of marketing Urban Aero fancraft to the US military. But there seems to have been little interest from the Pentagon, and the new CEO at Bell has disowned the project altogether.
But Frankel-Yoeli and his colleagues aren't giving up. The hovering fancraft could yet be a boon to the military and perhaps the emergency services - if they can really perform as advertised. The electric Panda seems to work, but the real test will come this summer when the turbine Mule takes to the skies. ®