This article is more than 1 year old
Western Digital intros own-brand SSDs
Takes SiliconDrive III to new, expanded markets
If you have been wondering how Western Digital would develop its solid-state drive (SSD) business after it bought SiliconSystems in March, now we know: more of the same, only better and aimed at a wider market.
WD has announced its SiliconDrive III product range based on SiliconSystems' technology and targeted pretty much at the same networks: communications, industrial, embedded computing, data centre, aero-space, military and OEM medical markets, which prize reliability and data integrity highly. These are products with SATA, EIDE, PC Card, USB and CF interfaces, not SAS or Fibre Channel or PCIe. They also have SiSMART technology to calculate the SSD's working life in real-time, based on a drive's usage patterns, and predict when maintenance will be needed to replace it.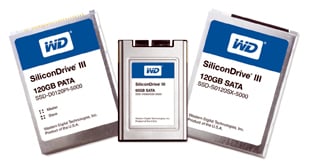 Other features are designed for the elimination of drive corruption due to power anomalies, and to ensure data integrity and SSD life for multi-year product deployments.
The SiliconDrive III family succeeds the SiliconDrive II product set, and feature faster read/write speeds, increased capacities and offer mechanical scalability. WD says they are meant for embedded system and data streaming applications, such as multimedia content delivery systems and data centre media appliances.
The product range includes 2.5in Serial ATA (Sata) and parallel ATA (PATA) and 1.8in Micro Sata products, featuring native Sata 3Gb/s or ATA-7 interfaces with target read speeds of up to 100MB/s and write speeds up to 80MB/s, in capacities up to 120GB.
Michael Hajeck, general manager of WD's SSD business unit, said: "The launch of SiliconDrive III will... enable WD... to accelerate the adoption of SSD technology beyond SiliconSystems' traditional embedded systems OEM customer base into data streaming applications, such as multimedia content delivery systems and data centre media appliances." Hajeck was the founder and CEO of Silicon Systems.
WD's main competitor in the hard disk drive market, Seagate, is also intent on entering the SSD market and it will be interesting to see whether it enters with a full scale marketing assault on storage array vendors and looks at server/controller SSD caching. Perhaps, like WD, it will look for a market niche in which it can learn more about SSD technology and practice, using it as a base from which to grow its SSD business.
This product launch is a stepwise enhancement by WD, both of SiliconSystems' technology and of SiliconSystems' market territory, which makes use of WD's global channel. It is not marketing these drives for use in storage arrays as hard drive replacements, or as general server or storage array controller caches. Instead, it is saying that the SSD qualities prized by SiliconSystems' military, medical and industrial embedded system OEMs - reliability, data integrity, speed and robustness - are also applicable to more general enterprise use involving, for example, the storage and delivery of multimedia content where media content quality and interruptions to streaming are not wanted. ®