Lightning Review Apple's iPhone 3.0 Software update went live Wednesday at around 10:00 a.m. Pacific Daylight Time. After a few hours of reviewing its flagship features, I can report that all - well, most - seems to be in order.
After a half-hour download of its 230.1MB bulk over a sputtering DSL connection, I fired up the installation process. Thirteen minutes later, my iPhone 3G was upgraded and its free space had shrunk marginally from 614MB to 605MB.
After my iPhone self-started, I took a trip through Settings, where I discovered a few changes. As widely expected, enhanced parental controls in Settings > General > Restrictions now provide finer-grained control over what Junior can download from both iTunes and the App Store - although a quick survey of the App Store shows that a majority of developers have not yet age-tagged their apps, as Apple's iPhone software chieftain Scott Forrestall asked them to do during the Worldwide Developers Conference keynote last Monday in San Francisco.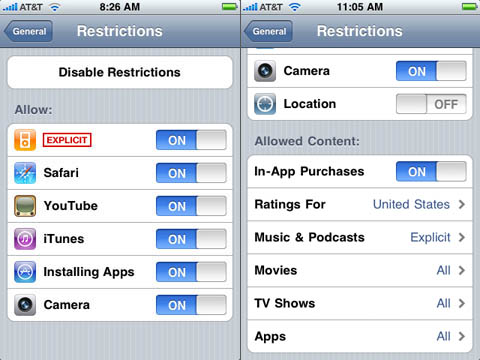 iPhone 2.2.1 (left) had blunt-instrument restrictions; iPhone3.0 (right) is more refined
Interestingly, my first trip to Settings > General > About showed that I had zero songs and zero videos on my iPhone - and there had been plenty there before I upgraded. I launched the iPod app to check whether they had, indeed, evaporated, but they were still there. I then went back to About, and the songs and videos were now correctly enumerated. By the way, there's also a new line in About that tells you how many apps you have installed.
The addition of the new Voice Memo app - more on that later - to the first home screen caused a bit of a pain in the butt by moving one of my previous first-screen apps to a new second screen, all by its lonesome. Simply moving that bumped app to the third screen, however, caused the second thus-emptied screen to disappear.
The promised Spotlight search - accessed by swiping left from the first home screen - finds text strings in Notes, Mail, Contacts, Calendar; iPod-tune artists, song, and album names; and more - although you can narrow the areas searched in Settings > General > Home > Search Results. A tap on a document listed in the search results launches the app and opens the doc. Be forewarned, though, that the search includes Mail's Trash. If you haven't cleaned yours out in a while, you will now.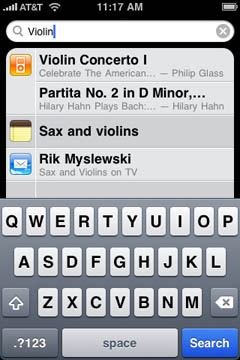 Notes, messages, contacts, events, tunes - it's all searchable
In addition, Spotlight conveniently find apps by name and launches them with a tap on their icon - a blessing to geeks like me with around 100 apps.
But Spotlight doesn't find text in documents created by third-party apps - I tested Hog Bay Software's WriteRoom (iTunes links throughout) and ShapeWriter Inc.'s ShapeWriter Pro, and no dice.
The much-ballyhooed cut-copy-paste abilities do indeed work in some third-party text-entry applications - cut-copy-paste worked just fine in WriteRoom but not in ShapeWriter.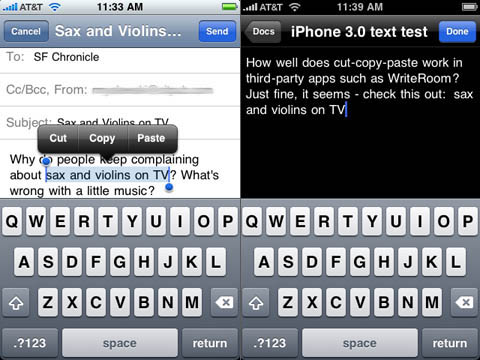 Text from Mail can be pasted into WriteRoom - and vice-versa
However, I found cut-copy-paste to be a finicky, touch-and-go affair. Admittedly, I'm as ham-handed as they come, but after an errant deletion or two, I found myself searching for the Undo button. Couldn't find one. [UPDATE 3:45 PDT: A number of readers have pointed out that an Undo dialog can be invoked by shaking the iPhone. So it can - but that's a dumb UI, IMHO.—RM]
And although cut-copy-paste worked just peachy in Safari, I wish it also worked in apps that simply present rather than edit information - but, alas, I was unable to cut-and-paste Sammy Sosa's steroid-infused 2003 stats from Bulbous Ventures' Baseball Statistics into an email to baseball commissioner Bud Selig.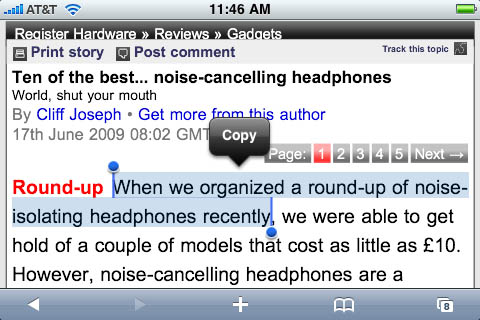 Even when zoomed in, cut-copy-paste works well in Safari
Sponsored: Webcast: Ransomware has gone nuclear