Continuing our tour of the N120 to the underside, we found a cover for the memory slot secured by an easily removable single screw. Usefully for the novice, Samsung's user guide includes detailed instructions about how to whip out the standard 1GB card and replace it with a 2GB one.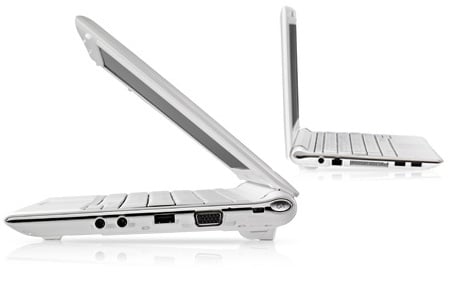 Customary port array
There's a fan exhaust situated between the Ethernet port and USB ports on the left-hand side. So quiet is the fan on the N120 that we only noticed it had one when we felt a warm breeze against a hand one evening when holding the machine in our lap. The HDD is also one of the quietest we have comes across in a netbook, making the N120 more or less silent in use.
Some may think the unusually thick screen bezel – a by-product of having such a large keyboard and a 10.1in screen together in the same chassis – has left the N120 well and truly beaten with the ugly stick, but in the flesh – or plastic – we didn't think it was that much of a blemish especially as the extra space around the screen is put to good use housing the N120's stereo speakers.
Other than the bezel, the only aesthetic let-downs are the faux chrome strips along the side of the base and the huge sticker announcing DIGITAL LIVECAM that sits next to the 1.3Mp webcam lens above the screen. The latter really does look cheap and nasty. Other than that, the N120 is a well made, solid and handsome bit of kit.
The next thing you will notice about the N120 is the size of the 84-key keyboard. According to Samsung, the machine has a "full-size 12in notebook-style keyboard with optimised key spacing". Whatever, it's the largest keyboard we have come across on a netbook – including the 12in Dell Mini - and it makes the N120 a very, very easy machine to use. It's a nicely made and weighted keyboard too, with a crisp and positive action and very little flex.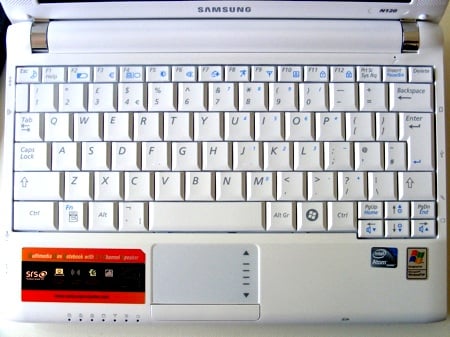 The keyboard's nice large and easy-to-use keys... as is the touchpad
The touchpad is a shade larger than the NC10's too, at 63 x 35mm to the older model's 60 x 30mm. The button bar below it stands a little more proud of the surrounding chassis. The extra size makes the pad easier to use than the NC10's is, and though the spiral scroll function was a bit hit-and-miss you do get a handy vertical scroll bar and pinch-to-zoom. The button bar itself is nicely weighted, with a positive and clean action.
Similar topics