Before we leave the keyboard its worth noting that Samsung has chosen to put the N120's microphone in the main body of the device next to the right-hand screen hinge, above the Insert key. This was a less-than-inspired idea because in that position it proved particularly prone to picking up the clicks of the keyboard. The penny only dropped after a person we were chatting to on Skype asked what the soft clicking noise in the background was – it was us, typing while we talked.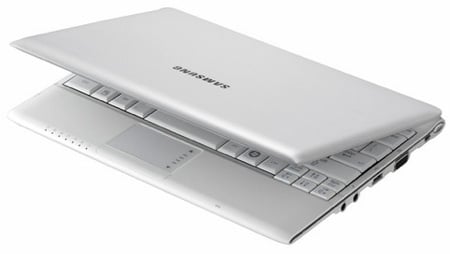 Inside, a bog-standard netbook spec
The N120 is powered by a 1.6GHz Intel Atom N270 processor with 1GB of DDR 2 memory and has a 160GB 5400rpm Sata hard drive. The latter is actually divided up into two equal spaces as the C and D drives, a move we suspect has something to do with Samsung's bundled idiot-proof Recovery Solution III application which makes a mirror image of the former – which the N120 uses as its default hard drive - and copies it onto the latter. Wireless connectivity is provided by an Atheros 802.11b/g Wi-Fi card and Bluetooth 2.0+EDR.
As is becoming increasingly common today the N120 is only available with one OS and, for good or ill that's Windows XP.
Though the N120's screen specification isn't remotely out of the ordinary – its a back-lit LED display measuring 10.1in corner to corner and has a resolution of 1024x600 - its shape is less common. At 224 x 126mm, it's a perfect 16:9 ratio, though since the resolution isn't, this is no advantage to movie viewers. While the NC10 has a matte screen finish, the one here is glossy and thus highly reflective. Whether this is a step forward or back depends on your personal taste - in daylight reflections can be rather annoying but on the other hand videos look more sharp with more vivid colours.
With video playback such a major part of the N120's raison d'être we decided to start our tests with some HD video files to see how it fared. The N120 struggled badly with a 1080p H.264 file - both at full screen and in-window, and using both QuickTime and VLC – suffering from major frame drop and regularly seizing up. We had better luck with a 1080p .AVI file which played perfectly at full screen using VLC as did a 720p WMV video. All the videos that played were commendably crisp, clear and colourful while the screen itself has plenty of brightness on offer.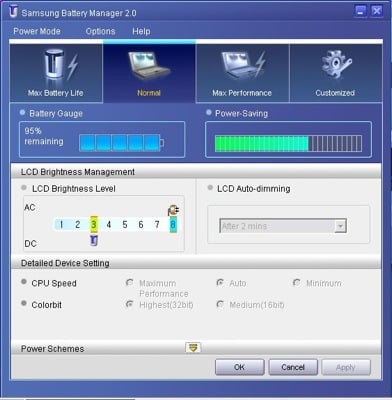 Tweak to eke out your runtime
When we ran 3DMark06 we came up with a score of 83. That's nothing to write home about but its not an unreasonable performance for a machine fitted with Intel's GMA950 integrated graphics core. As an average figure it also just shaded the Asus Eee PC 1008HA Seashell.
Similar topics