The other part of the N120's claim to multimedia excellence is its speaker system. Rather than the typical netbook one, the N120 has three speakers, one on either side of the screen rated at 1.5W and a small sub-woofer buried in the front left-hand corner of the chassis. The exotic speaker array doesn't make the N120 the loudest netbook we have come across but it does make it one of the most pleasant sounding – swapping back and forth between the same source playing on an Acer Aspire One and an N120 the improvement was noticeable and dramatic, the little sub-woofer filling out the sound nicely.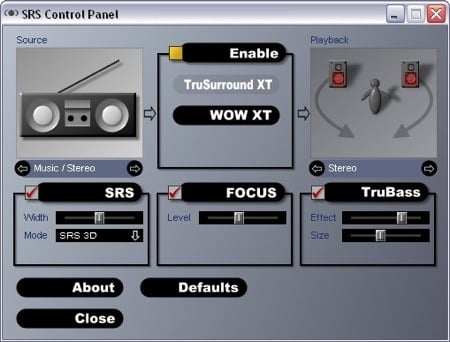 SRS sound on a netbook? Oh, yes
The N120's audio performance is further helped by some trick sound modification technology from SRS Labs, the same folks who make the sound modification software for iRiver's media players.
A dedicated SRS control panel lets you switch between the ersatz multi-channel sound of TruSurround XT for video or the stereo expander SRS WOW XT for music. To be honest, messing about with the SRS control panel didn't really change the soundscape by much unless we had a pair of active speakers attached when its influence became more obvious.
The N120's six-cell, 5900mAh battery – up from 5200mAh in the NC10 – did a sterling job when we ran our usual test of playing a standard-definition H.264 video file at full screen using VLC with the Wi-Fi radio on and the screen set to maximum brightness. It averaged 298 minutes across three test runs.
In day to day use, we found it relatively easy to get over six hours of runtime from a full charge. The absolute best we managed, with the Wi-Fi off for most of the time, the screen brightness turned right down, and the CPU speed set to minimum was 8 hours 20 minutes.
Video Playback Battery Life Results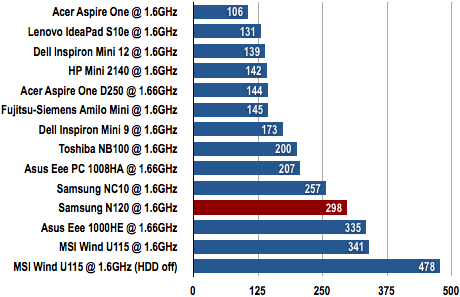 Battery life in Minutes
Longer bars are better
Moving on to PCMark05 and in all three tests – CPU, memory and HDD - the N120 performed worse than the NC10, though the margin wasn't large enough to have a noticeable impact on real-world use.
Similar topics