At around £380, an N120 will set you back in the region of £70 more than a NC10 so is it worth the extra? It's a tough call. Yes, the battery life is a little longer, the keyboard bigger and the sound better. That being said, for the extra cash we'd have liked Samsung to equip the N120 with the faster N280 Atom CPU and - since it's pitched as a media machine - a slightly more beefy GPU.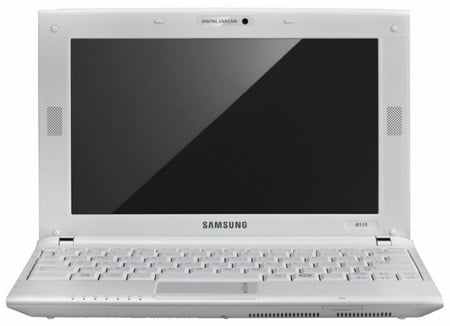 Big bezel
The fly in the N120's ointment isn't a Samsung, though, it's Asus' Eee PC 1000HE. For around £330, it comes with a faster chip, longer battery life and 802.11n Wi-Fi, though it's also heavier and the keyboard isn't a match for the N120's.
It goes without saying that we would also like to see the N120 available with an SSD and Linux, which would make it both more robust and cheaper. But we are not holding our breath.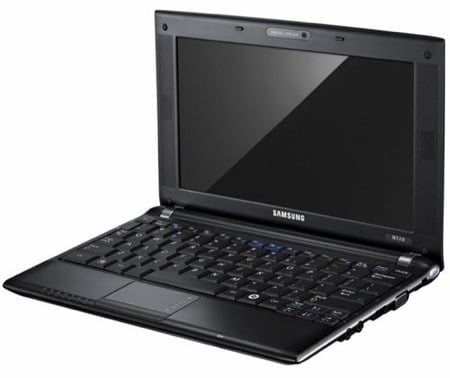 Also available in black
Verdict
With so many netbooks now on the market - and so many different interpretations of the genre - saying that any particular one is the best has become a little pointless. That's not going to stop us saying the the N120 is certainly one of the best, though. The excellent keyboard and screen make it a very easy machine to live with and use, while the 2.1 speaker system does actually live up to Samsung's claim that this is a media optimised machine. Such a shame then that there are so many better-value offerings to match it. ®
More Netbook Reviews...
| | | | |
| --- | --- | --- | --- |
| Samsung NC10 | Acer Aspire One D250 | Asus Eee PC 1008HA Seashell | MSI Wind U115 Hybrid |

Samsung N120
An evolution of the NC10 rather than a revolution the N120 is fine netbook that's been usefully optimised for those who want their machines to double up as a media player. Its not what you'd call cheap though.
Similar topics