This article is more than 1 year old
New green and quiet jet-engine test results announced
Revolutionary turbofan spun by P&W
Paris Airshow US jet-engine colossus Pratt & Whitney have announced the test-programme results of their (ahem) revolutionary new PurePower™ Geared Turbofan (GTF) at the Paris Airshow. Unsurprisingly, P&W consider that the GTF will become the new standard in commercial jet engines, significantly greening the aviation industry.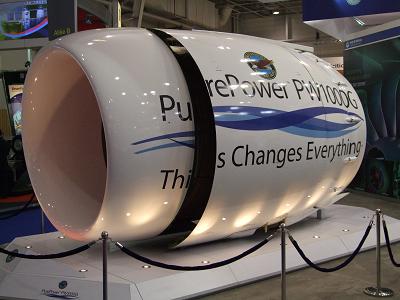 Everything, eh?
Bob Saia, P&W exec in charge of the GTF programme, briefed reporters at Le Bourget on Tuesday. He said in summary that P&W's programme of ground and flight tests (the PurePower 1000G prototype engine has flown on both Boeing 747 and A340 four-engined jets) has been all the company could have hoped for.
The Geared Turbofan, as its name implies, is different from other high-bypass airliner-style jets. These engines have a central turbojet core, in which fuel burning in the combustion chamber squirts hot exhaust out of the back end, turning turbine blades as it goes. The turbine spins a central shaft running forward to the compressor blades at the front, which suck in air and ram it into the combustion chamber to mix with fuel.
Ordinary jets like this aren't very fuel-efficient, and modern airliners also have a bigger fan attached right at the front of the shaft, which sucks in loads of air across a wider diameter and blasts much of it straight out of the back unburned, bypassing the central tunnel - hence the term "high-bypass turbofan".
But even high-bypass turbofans aren't always seen as efficient enough these days, with oil seemingly headed back up to its ruinously high pre-credit-crunch peak. Furthermore, the aviation industry believes that swingeing carbon-emissions taxes are coming - perhaps to the point that carbon could beat maintenance to become the second-most significant cost of running jet engines, according to Saia.
Furthermore, ordinary high-bypass turbofans are fairly mature tech now. It's starting to get difficult to improve them, and the engine industry would probably be pondering something new even without the spur of pricey oil and looming carbon levies.
Much of the industry believes that "open rotor" engines - previously tested as a result of the 1970s oil crisis, then shelved when fuel prices fell - are the way forward. But P&W have gone down a slightly less radical track with GTF.
In a geared turbofan, as the name implies, the big fan at the front isn't directly fixed to the engine's shaft. Rather, it's driven via gears, so that the fan spins slower than the turbine engine. According to P&W, this means that a higher bypass ratio can be practicably achieved, delivering significantly better fuel efficiency.
Saia says that the PW1000G offers a 15 per cent saving on fuel, correspondingly less CO2, and a 50 per cent cut in NOx emissions.
Detractors had suggested that GTFs wouldn't be as durable as normal engines, as the metal-on-metal gearing between the fan and the shaft - spinning extremely fast - would inevitably wear out much too quickly, presenting a massive maintenance headache. But Saia quoted Airbus, jointly involved in the tests, as saying that the gearing tech had been "mastered". He added that the gears were 99 per cent efficient at transmitting energy, with heat losses easily absorbed by the oil system, and said that after 400 hours of tests the gears showed "little to no wear".
That said, Airbus haven't yet committed to putting any GTF engines on their planes. Even Saia admits that the few hundred hours the prototype PW1000G has run in tests can't really show how fast such engines would wear out in service. However, Canadian-headquartered Bombardier has signed up to put GTFs on its new C-Series jetliners, and they will also fly on the Mitsubishi Regional Jet. These planes will come into service from 2013.