HP has revealed its own POD containerised data centre at its Technology Forum in Las Vegas.
The POD acronym stands for Performance-Optimised Datacentre and, like several other companies, HP has decided to follow in Sun's Project Blackbox footsteps and build data centres in shipping containers.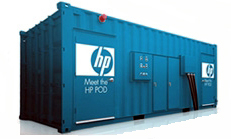 HP says it can be built and delivered, ready for use, in six weeks - which compares favourably to the months or years required for a new data centre suite or building.
Natch it's filled to the hilt with networked servers and storage. It is also positioned as being energy-efficient, cheaper and faster to implement than a building - as local authorities don't have to okay a new permanent structure - and even tax-efficient, as such structures can attract lower property taxes.
The specs say that the 40-foot container can house up to 3,520 compute nodes (blade servers) - 5,000 if you use the new SL servers - and 12,000 3.5-inch hard drives, or any combination, which HP claims to be the equivalent of a 4,000 sq ft data centre. Third-party blade servers can be used. PODs can be stacked two high.
The PODs, costing about $1.4m, are built in Houston and shipped worldwide. HP is envisaging setting up regional assembly centres and developing a POD lease offering. If you want to open the POD bay doors and look inside, then get more information here. ®