This article is more than 1 year old
Xerox Phaser 6280V/DN
Page turner – faster than your average duplex?
Review The sales ratio of colour to mono laser printers continues to swing towards colour, and not just in the SoHo market. If you want to buy a colour machine for a small business or a reasonably-sized workgroup, say four or five people, then the Xerox Phaser 6280V/DN certainly deserves a look.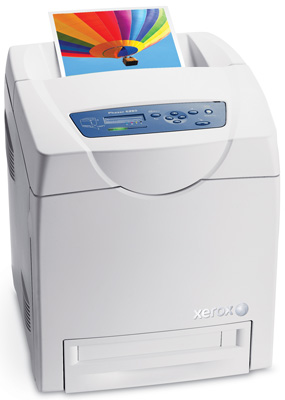 Xerox's Phaser 6280V/DN
Xerox still has a good name in printing, left over from the days when xerography was the only sensible means of getting a plain paper photocopy. Its laser printers are known for good quality print and robust construction. The Phaser 6280V/DN is a colour laser with both duplex print and network capabilities straight out of the box, though it is a substantial box.
Although the printer is large, it manages to maintain a small footprint by having a vertical design. Pull down the large front cover and you can see the four integrated drum and toner cartridges stacked up, one above the other. These are supplied in situ, although you have to remove each one to pull off its sealing strip, before starting to use the printer.
Paper feeds from a 250-sheet tray at the bottom of the machine up to its top surface, which has a deep bay to take substantial jobs. There's also a 150-sheet multi-purpose tray, for special media, but opening up the big front panel to reach it takes up a lot of room and leaves the machine vulnerable to knocks. You can add an optional second main tray, with a capacity of 550 sheets, underneath the printer.
OK, we know we hammer on about it, but a laser printer labelled 'workgroup' which can't take a ream (500 sheets) of paper at a fill is short-changing you. Not only does it mean it needs refilling more frequently, but you'll also have half-used packs of paper lying around, leaving it more susceptible to damp. Much better to transfer a whole ream directly from a new wrapper, each time the paper-out light flashes.

Simple controls, but a clear, backlit LCD display
The printer's control panel is a simply-designed affair with a 2-line by 16-character mono LCD display, a diamond of menu navigation buttons and assorted others for cancelling a print job and waking the machine up from power save mode. Since there's no front panel USB socket for walk-up printing, the wake-up button will probably see little use. There are two status lights, one green, one orange, but with no legends to explain what they mean to the uninitiated.