This article is more than 1 year old
Church of England schism fear over mobile phone masts
Not an ecumenical matter
Mobile masts have joined gay priests and female ordination on the list of issues the Church of England would prefer not to have to deal with.
The potential schism was revealed on Tuesday in Parliament, when Sir Stuart Bell was asked if the Church Commissioners had any policy on the fitting of radio masts, and admitted that it was a parochial matter.
Standard leases are, apparently, available for operators wishing to deploy masts on land owned by the Commission. But anyone wanting to stick a mast in a church tower will need to negotiate permission with the local church council, so in common with much of the Church of England, no standard response exists.
Just as some churches happily accept the sacraments from a women priest, while others deny the existence of such a creature, so some churches will happily see their spires turned into electromagnetic radiators, while the rest see it only as a conduit of mammon with no place in a church.
Guildford cathedral, famously, falls into the former camp - having had its angel re-gilded to avoid interfering with the telephone mast on which it now sits.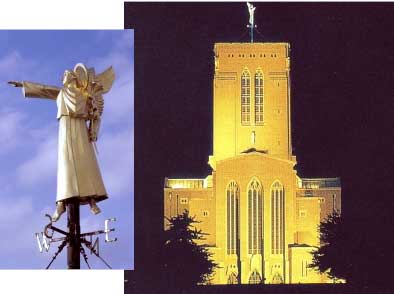 Is that a radio mast I see up your jacksie?
Network operators are increasingly desperate for locations to put their masts, a problem that's only going to increase with greater use of mobile broadband. Just last week your reporter noticed two stench pipes - sewer chimneys that look like lampposts without lamps - which had been hastily converted into mobile-phone masts. It brings a whole new meaning to the term "gutter talk". ®