UK Identity Card 1.0 is in deep trouble. It's running late, and if the Conservative Party wins next year's election it'll be scrapped. Its original architect has changed his mind, and even some Cabinet members are starting to see it as a needless expense. But if we pull the plug, what then?
The cards may go away, but the issue won't. Problems associated with identity, privacy and security will remain burning issues facing both the technology industry and wider society. But the irony is that the UK is well placed to develop a model identity framework for the 21st Century. Unlike many other countries, we don't have the problems of any existing, legacy national identity scheme to encumber us. We have a clean slate. We could have got this right and shown the art of the possible.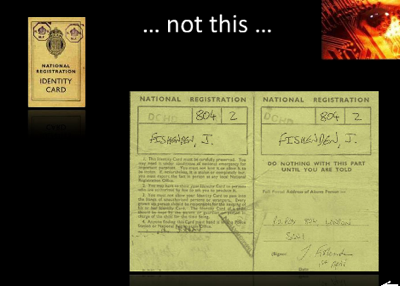 All the more reason to be dispirited then with the current identity plan, which seems to be rooted in a 1960s view of computing, with everyone's personal information stored in some monolithic central system and proposed identity cards that seem to be little more than plastic copies of the cardboard identity documents the UK population was forced to use during the second world war.
It is as if someone has dusted off a document for a state-centric identity scheme from another era, one before the digital, Internet, consumer-driven age. But I won't dwell on this as the failings of the current scheme have been the topic of endless well-informed analysis and comment already.
Of course, some of the other documents and cards we typically have in our wallets or purses aren't exactly model examples either. Take a typical bank card. Right there on its front it proudly displays your name, your bank account number and your bank sorting code. And on the back? Ah, your signature and the so-called 'security code' (printed for all to see). On the back too is a magnetic stripe that makes it easy to copy much of this data automatically. Other cards and documents are little better.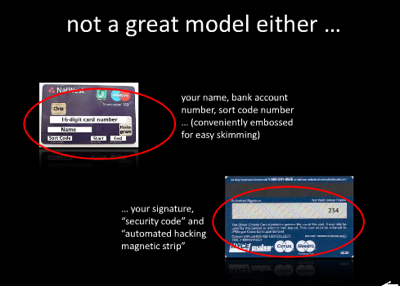 The mentality of the old, paper-based age in which such information had to be physically printed on documents has persisted into the digital age. We have all the downsides of the paper-based age and little upside from the digital age, in large part because of issues such as legacy, backward compatibility and interoperability (it's useful, for example, that our bank cards work abroad, including in countries that do not use chip and PIN – but the price for that is their lowest common denominator vulnerable design).