Kingston achieves 128GB Flash drive feat
Small form-factor, big capacity
Kingston Technology has launched a Flash drive with a whopping 128GB storage capacity - thought to be the most capacious drive of its type currently available.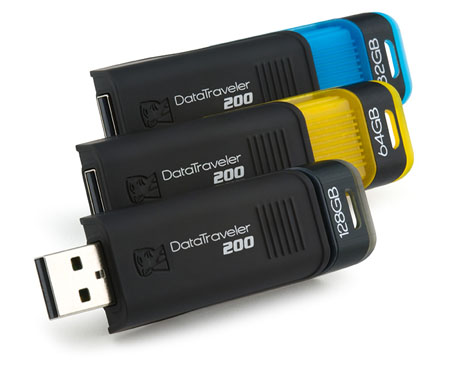 Kingston's DT200: 128GB in your pocket
The DataTraveler 200 – also known as the DT200 – measures roughly 70 x 12 x 22mm and features a retractable USB connector. It's also bundled with a password security system for Windows users, the company said.
Kingston told Register Hardware that the DT200's quite a "high-end device", which will probably appeal mostly to business users and "very enthusiastic consumers" with expansive data requirements.
And very capacious wallets. Although a UK launch date or price hasn't been announced, the DT200 is available now in the US for around $546 (£333/€393) - more than twice the price of the 64GB version. ®