The MP expenses saga has reached a new level of farce - with Parliament publishing a heavily censored version of the expenses file obtained by the Telegraph newspaper, and leaked over the past month.
It's so heavily censored, there's nothing there that will incriminate anybody. The paper will respond with a full, uncensored version tomorrow.
But - as if we didn't already know from the £100bn racked up in consultants' fees over the past decade - MPs are a bit clueless when it comes to technology, but very good at passing the cost of their ignorance onto us.
For example, take Ben Bradshaw, the latest media minister, and the man behind the man behind Digital Britain. Bradshaw's staff were trying to "connect the wrong end of a Scart lead to a digital TV box", we discover. Bradshaw billed £20 on expenses for the TV engineer.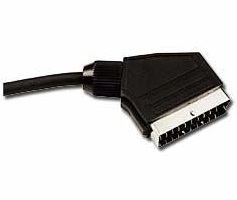 (Bradshaw has a degree in languages and was a TV journalist).
Then there's Bradshaw's replacement - the new minister of state for health services, Mike O`Brien. Like Bradshaw, O'Brien oversees Connecting for Health and NHS IT.
Reader David spotted that in November 2004, O'Brien had made out a cheque for £60 in response to an invoice from Domain Registry Services. Earlier that year, as El Reg reported four months earlier, Domain Registry Services was a fraud - and O'Brien attempted to stop the cheque.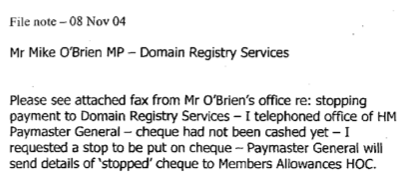 (O'Brien has a degree in history and politics and was a solicitor.)
As the unexpurgated expenses are revealed, perhaps you could find similar examples of IT savvy, and let us know. ®
Similar topics