Kodak EasyShare Z915
10x zoom without the price magnification
Review Kodak is the latest company to enter the super-zoom market, with the EasyShare Z915. Equipped with a 10x optical zoom, plus a good sprinkling of features, it is aimed at the person who wants to get closer to the action with their compact camera. What's more, it sells for less than £200. So do you really get more for less with the Z915?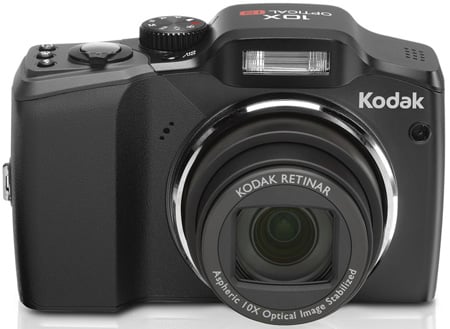 Kodak's EasyShare Z915
As would be expected for a camera sporting an extra large optical zoom, the Z915 is bigger than most compacts, measuring 107 x 72.4 x 35.7mm. but it's not overly large, as it more compact than Canon's PowerShot SX 110 IS, which also sports a 10x optical zoom.
Weighing in at around 260g with battery and card, you'd struggle to fit this camera in your trouser pocket, although it's quite comfortable to carry around for long periods of time. At the top of the Z915 are the tiny power button and a larger mode dial. To the right, the shutter button, zoom lever and three tiny buttons for flash, macro and drive mode settings.
On the back is a 2.5in LCD screen composed of 230,000 dots. There is a large bezel around the screen and one can only assume that cost considerations led to Kodak not putting a 3in or even 3.5in screen onto the Z915. To the right of the screen is a row of black buttons, which are used for selecting delete, menu, info and playback.
To the right is a four-way controller and the red share button, which can be used in conjunction with supplied EasyShare software for printing or emailing images. A rather flimsy plastic cover hiding a mini USB port resides on right side of the camera body. On the bottom is a cover for the SD/SDHC card slot and battery compartment.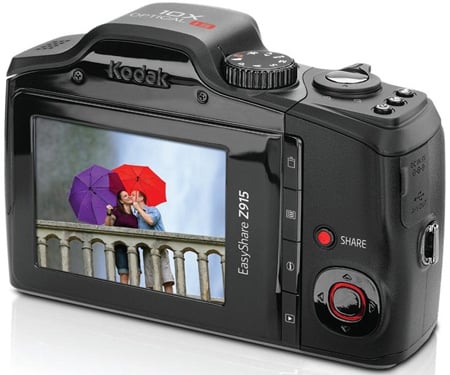 Opting for a 2.5in LCD, no doubt helped keep costs down
The Z915 takes AA-sized batteries, both alkaline and rechargeable (NiMH and Lithium) and the camera comes supplied with a couple of alkalines. A word of warning when opening the flap: the batteries are pushed against some strong springs and if you're not careful, they can spill out of the camera whenever you open the cover.