This article is more than 1 year old
Galactica 1.3
Not a Cylon in sight
iPhone App Review Third-party iPhone applications are generally cheap, but we really expected a rather better price-to-play time than we got from Galactica.
Like Tube Deluxe it only costs 59p, but we can't see many downloaders getting anywhere near a minute's worth of pleasure from each penny they spend. You might get five minutes' mild amusement, maybe, but not more.
Galactica is an interactive version of the trippy graphics that music players that iTunes, Windows Media Player and others can be set to display in time with your tunes. Rather that take cues from the music, this app presents a virtual solar firework display triggered by taps, swipes and touches.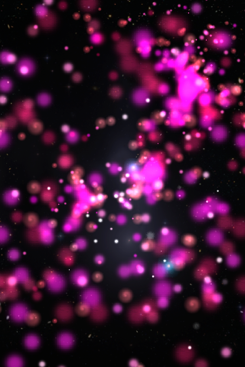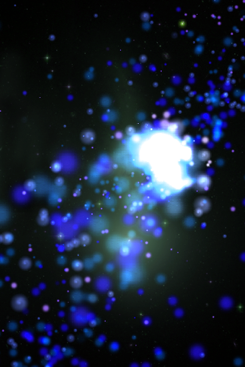 Tap, swipe and pinch to trigger Galactica's solar fireworks
Taps yield a sunburst of coloured, blurry dots, while putting down a pair of pinkies will prompt the particles to gravitate toward your fingertips. Strokes give the miniature stars some directional impetus, but the image is always entirely dynamic, with the particles following their own Big Bang-like trajectory, exploding out from the pixel you tapped on.
Despite the app's title and our celestial metaphors, this is no stellar simulation. It's really no more than fancy digital finger painting when all's said and done. Developer Thumbspark calls it an "interactive toy that will relax, fascinate and mesmerise" - doodle in your downtime, essentially - while you listen to music on your headphones.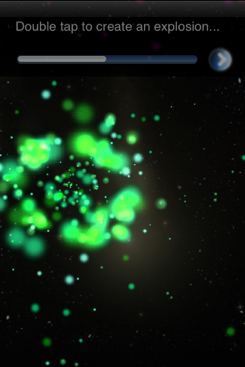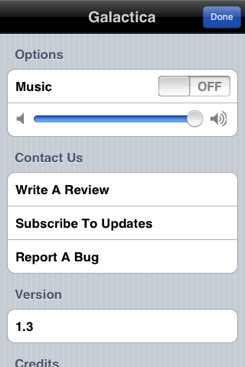 Music provided if you have none, and help too
Credit to Thumbspark, it has equipped Galactica with a nice eight-screen tutorial that's nowhere near as onerous as it might sound, and the app comes preloaded with a trio of ambient tracks for you to lose yourself in. There's a button for screengrabs. The app proved itself very stable on our first-gen iPhone running OS 2.2.1.
Galactica well coded, to be sure, with some undoubtedly very clever physics modelling in there, but it's utterly ephemeral. The 'wow' point comes very, very quickly, and after that there's really nothing to sustain your interest - or, since Galactica needs the screen on, your handset's battery charge. After a few minutes, we just put our phone to one side, sat back and enjoyed the music instead, Galactica forgotten.
Verdict
Utterly disposable, Galactica isn't remotely useful, and nor is it as relaxing, as mesmerising or as fascinating as its developer claims. Even if it were free, it would be hard to recommend. ®

We'll be regularly reviewing iPhone apps - and, in due course, Android downloads - alongside all our ongoing hardware review coverage. Got a favourite app you'd like us to cover? Let us know with a comment...

Galactica 1.3
A curiosity that's amusing for mere moments. It's cheap, but it doesn't thrill.