Green GT motors through trial run
62mph recorded down track's straight
---
Leccy Tech Green GT's leccy racer of the same name has finally taken to the track, having completed an initial shakedown of the Paul Ricard Circuit in Le Castellet, France.
Can't see the video? Download Flash Player from Adobe.com
Christian Pescatori, a Le Mans veteran, successfully pushed the car through 18 laps of the 2.37 mile circuit on just a single tank charge.
This trial run means the car stands a good chance of covering the Isle of Mans' Mountain Course in next year's TTxGP. But it's worth remembering that the TTxGP circuit is, of course, considerably hillier than your average motorsport track.
After recharging the car, Pescatori managed to get a further six laps out of the Green GT car and drive it to a top speed of 62mph (100kph) down the French course's Mistral straight.
Although not exactly at a tarmac melting speed, the Green GT's electric motors were allegedly only pushed to around 30 per cent of their maximum power output.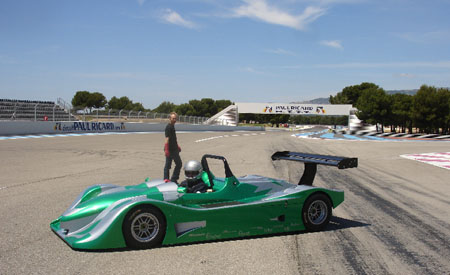 The Green GT hit 62mph on just 30 per cent power
The run was mainly designed to ensure that the car's balance, brakes and aerodynamics were firing on all cylinders. And to check that the gearbox could withstand the torque generated by two 100kW electric motors.
Team Green GT now plans to return to the Paul Ricard Circuit later in the summer for a full-speed test, which could see the car nudge its way up to 170mph. ®