We're all used to hearing about factory closures these days, but have you ever wondered what happens to a manufacturing plant when the jobs have gone?
The answer is here, where industrial auctioneer Sweeny Kincaid is selling the contents of a "Former IBM PC Manufacturing Facility in Greenock" via an online auction.
Greenock was one of the centres of Scotland's Silicon Glen, a largely government incentive-fuelled attempt to turn laid off Scottish shipbuilers into bunny suited, cutting edge tech manufacturers.
And it worked. For a while. Then outsourced manufacturers, in countries with wages a fraction of the West's, crowded onto the scene. IBM outsourced the Greenock plant to Sanmina-SCI in 2003. Sanmina said in 2006 that it was closing the plant, with the loss of 300 jobs.
IBM is still in Greenock but it's all about services now, with 2,000 staff doing application maintenance, infrastructure services and multi-lingual support. A £2m datacentre is on the way too.
But what's left of the manufacturing dream?
The man with the gavel promises:
Surplus Utility Equipment - Generators, Switchgear, UPS Systems, Compressors, Pallet Wrapping & Handling, Air Handling Equip, Speed Doors, Site Container, Catering Equipment, Floor Cleaning Equip, Large Qty of Various Office Furniture, Computer Components Cabinets & Snooker Table
And he's as good as his word.
With 20-odd days to go, bidding for the full size snooker table - including rests, balls, etc - currently stands at £20. Perfect if you've got a lot of time on your hands.
Two of the most sought after items appear to be a shipping container and power plant, both of which are currently attracting bids of £197. A pallet wrapper is going for £100, while a Panasonic smart board is going for £110. Someone is willing to bid £37 for four plant displays.
The office equipment - desks, cupboards, chairs etc - is not attracting much attention though there's a heavy duty shredder attracting bids of £67, while a vacuum cleaner is going for £30. Someone is willing to pay £30 for 20 conference chairs.
The kitchen equipment - heavy weight cookers and the like - are attracting some bids, though only the dishwasher, hot cupboard and freezer have struggled into triple figures. Perhaps people in Greenock are not eating out much these days.
Most poignantly, the scale model of the plant, which by memory lingered in the reception area, has attracted no bids whatsoever. Why bother, when you could setup a new plant in Poland for Indonesia for peanuts.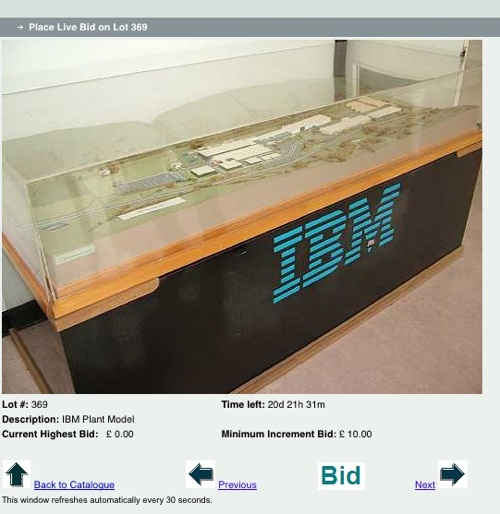 We're used to seeing the post industrial society through the eyes of Mad Max. It may end up like that, but first we'll have to live through the liquidation sale. ®