Developers chomping at the bit to get their applications onto the Palm Pre are going to have to wait a little longer, as the Mojo SDK necessary won't be around until the end of the summer at best.
While launching an SDK three months after the device might compare well with Apple's iPhone (which only managed an SDK a year after launch), it should be remembered that the iPhone wasn't supposed to have an SDK at all: everything was intended to run in unextended AJAX. The Pre can already run basic AJAX content, but supports an extended AJAX API to allow much greater functionality - or it will once the SDK is launched.
Not that the lack of SDK has prevented 700,000 downloads from the Pre Application Store. This is all the more remarkable once one realises there are only thirty apps available. Unfortunately for Palm, that doesn't translate into revenue - all the apps are free for the moment - but it does show that application downloading is now firmly part of the smartphone experience, and expectation.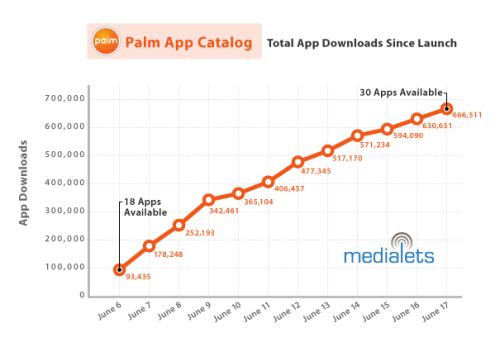 Data compiled by the nice chaps at Medialets
The applications that are available have been developed by those with early access to the Mojo SDK, and are thus able to create and sign applications for distribution. Palm says they'll be expanding that early-access program, but everyone else is recommended to take a long summer on the beach and catch up on "the Rough Cuts edition of Mitch Allen's upcoming book and the sites run by our great community of enthusiasts", ahead of a furious Autumn spent creating some applications. ®
Similar topics