Review Samsung has been making hard drives for years, but it's taken a wee bit longer for it to decide that if Western Digital, Seagate and co. can extend their drive production efforts to nice, shiny external storage units for consumers, it can too.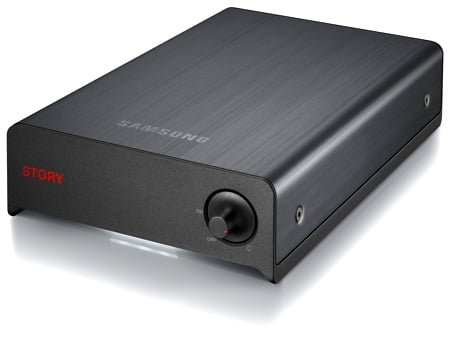 Samsung's Story: strong and (almost) silent
What Samsung has lacked thus far is the design nous to take what essentially a generic product - the hard drive - marry it with some off-the-shelf electronics and then - here's the crucial bit - stick it all in an attractive enclosure. The innards are largely the same, so these days you differentiate one external drive from another almost entirely on looks.
And the new Story Station is cute, in a solid, muted Terminator kind of way. There's no bright chrome, no piano black glossiness, just a brushed gunmetal upper surface, and a matte black front, back and bottom.
The black and gun-metal grey complement each other well, as does the mix of curves and straight lines. While the sides of the Story curve from the top to the sides, at the front and back you get 90° angles. The base is suitably sculpted so that drives can be stacked. The feet are sturdy and well able to resist attempts to push the drive sideways.
The rear is home to the unit's single, mini USB port, power socket and some neat diagonally striped vent holes. The front, though, really caught our eye because it's the first on an external drive that sports a switch.
And no simple on/off rocker, this but a knob that first engages the power and then - get this - operates as a rheostat to control the intensity of the white disk activity light that glows downward under the front panel.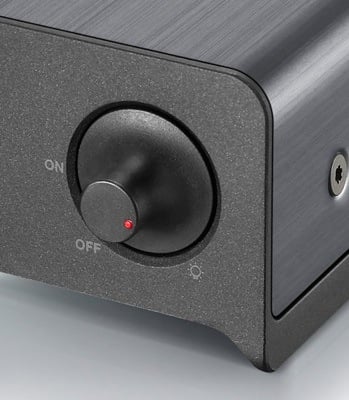 Turned on by a knob: ooh-err, missus
Now, we can safely say the light intensity angle is pure gimmick, but we do like the switch. Switches give you the sense of reassurance that the drive is ready to be disconnected from the mains and put away, something that simply dismounting the drive and yanking the power cord does not do.