A particular bugbear for us has always been the slow screen response when you flip the iPhone from upright portrait mode to horizontal landscape mode. This was often most noticeable when playing music – the iPhone would clearly pause for breath before switching from a vertically scrolling list of album or song titles to the horizontal "coverflow" mode that allows you to flick through album artwork.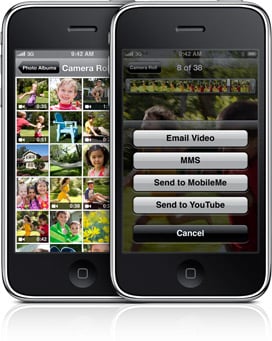 Apple adds MMS by demand, not by design
Now, you'll see a nice, smooth crossfade as the screen display flips onto its side. It also feels more snappy and responsive for many simple tasks, such as flicking from one page of apps to another on the main Home screen.
Potentially, the biggest performance boost comes from that new PowerVR graphics chip. Games developers certainly seem to be rubbing their hands in glee at the thought of its 3D capabilities. At the moment, there are few games or other apps that really exploit that extra graphics power, so this is something that we'll follow with great interest in the coming months, as a new generation of iPhone games appear.
Apple will have to watch out, though, or we'll see apps split into those that require the 3GS and those that don't. This hasn't been necessary so far, and it's one of the strengths of the platform that you don't have to worry about what i-hardware you're downloading the apps to.
We were concerned that the more powerful chips might affect the battery life, but the numbers Apple is quoting actually improve on the iPhone 3G in some areas. Talk time using a 3G connection remains at five hours, but Wi-Fi access increases from six hours to nine hours. Audio playback increases from 24 to 30 hours and video playback is up from seven to ten hours.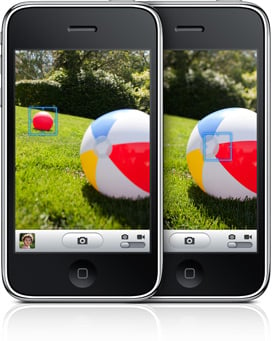 The camera can now auto-focus - or you can move the rectangle to control it yourself
In fact, our tests actually showed these figures to be a little conservative, as we got almost exactly 11 hours of video playback when we left the iPhone running some films we'd ripped into the H.264 format.