Alas, there's still one glaring weakness here, as the new camera still doesn't include even a simple digital zoom option, let alone a proper optical zoom. A basic digital zoom is a terrible omission in such an expensive phone and it's really quite baffling that Apple's engineers can cram a magnetometer into the thing for the new Compass feature — which nicely integrates with Google Maps, rotating the map according the direction you're facing — but will overlook something as basic as a zoom option for the camera.
Sample Video
No doubt, the reasoning is that a 3Mp resolution is going to produce cruddy images with a digital zoom, and Apple doesn't like to do cruddy. But the shots the camera is capable of taking, as you can see on the previous page, aren't so bad as to negate the need for a zoom. Other phones do it - why not this one?
You do get video capture, though. The resolution is basic VGA - 640 x 480 — at 30f/s, but the video clips we shot were bright and sharp, and more than adequate for uploading to YouTube. There's also a handy little editing feature that allows you to quickly trim the beginning and end of your clips before you upload them.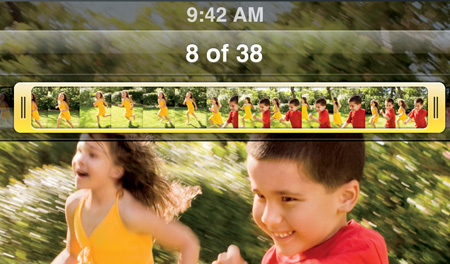 Video capture includes editing features
These new camera and video features are certainly welcome, but this remains one area where the iPhone is still playing catch-up with its rivals, rather than leading them as it does in so many other ways.
There's one other new feature that is reserved solely for this model. Press the Home button for a couple of seconds and a new Voice Control display panel appears on the iPhone screen. You can then control the iPhone with voice commands such as "Call Reg Hardware" or "Play songs by Queen". This is guaranteed to impress your friends – until it gets it wrong and repeatedly confuses 'Queen' with 'Sweet' and makes you a complete laughing stock instead.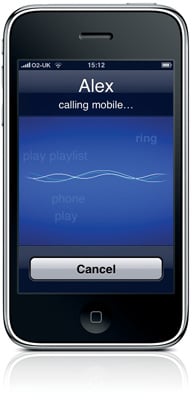 Tell a phone: issue commands with Voice Control
To be fair, the Voice Control option works well most of the time - it's not a repeat of the Newton handwriting fiasco, for those of you with long memories – but Voice Control does strike us being a bit of a gimmick for showing off to your friends, rather than a genuinely useful new feature.