Even more disappointing is the discovery that O2 charges extra if you want to use the tethering 'bolt on' option: £14.68 per month with a 3GB monthly download cap, or £29.36 for 10GB cap. That strikes us as disgraceful given that the existing monthly tariffs are supposed to include 'unlimited' internet access. It shouldn't matter whether the content's being viewed on the handset or a laptop.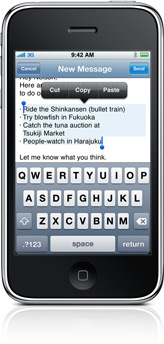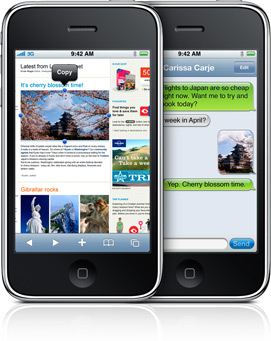 Cut'n'paste... at last
The one bit of good news on the pricing front is that the old iPhone 3G is still available and is completely free on all but the cheapest contracts – it costs £96.89 otherwise — effectively giving Apple a 'new' low-cost model to draw in less well-heeled customers.
Verdict
If you don't already own an iPhone then the iPhone 3GS might well be the model that finally wears down your resistance. The lack of a camera zoom is a glaring omission, but the iPhone's great strength remains the sheer variety of features and software that it offers, and which make it vastly more versatile than most of its rivals.
The faster processor and graphics chip will further encourage developers to create new apps that will continue to enhance the iPhone's versatility.
The only real drawback is O2's monopoly stranglehold on the iPhone in the UK, which has certainly affected our overall rating of the iPhone. It means that O2 can charge pretty much whatever it wants - including that extortionate tethering tax.
Even so, that £34.26 monthly tariff is probably pitched at just the right point to ensure that the iPhone 3GS maintains that handset's juggernaut momentum. It's undeniably the phone that sets the pace at the moment - just look at all the clones. We only wish that Apple would make it available through a wider range of networks and get some real price competition going. ®
More Phone Reviews...
| | | | |
| --- | --- | --- | --- |
| LG Arena | HTC Magic | Orange Vegas | HTC Touch Diamond 2 |

Apple iPhone 3GS
The camera's still a weak point, but the new iPhone's improved performance and features continue to set the pace.
Price:
Contract: from Free. PAYG: 16GB £440, 32GB £538. SIM-free: N/A RRP