Dreamliner first flight delayed yet again
Boeing's 787 woes continue
---
Boeing has announced the first flight of its 787 Dreamliner will not now go ahead on 30 June as planned due to "a need to reinforce an area within the side-of-body section of the aircraft".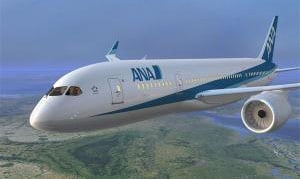 The company's press release explains: "The need was identified during the recent regularly scheduled tests on the full-scale static test airplane. Preliminary analysis indicated that flight test could proceed this month as planned.
"However, after further testing and consideration of possible modified flight test plans, the decision was made late last week that first flight should instead be postponed until productive flight testing could occur."
Boeing admits a revised schedule won't be available for "several weeks" - another delay following a series of knock-backs which have seen the schedule go seriously awry.
In December last year, Boeing set this latest missed target for the Dreamliner, slating a Q2 2009 first flight, followed by first delivery in Q1 2010.
Back in 2007, the company made the rather wilder claim it could deliver the first example to All-Nippon Airways by May 2008 by following a compressed flight test schedule, despite ongoing technical problems and industry experts' scepticism.
Sure enough, shortly thereafter "ongoing challenges with out-of-sequence production work, including parts shortages, and remaining software and systems integration activities" provoked a six-month timetable slip - the worst of five which have seen the programme slide to more than two years behind schedule.
Of the latest knock-back, Boeing president and CEO Scott Carson elaborated: "Consideration was given to a temporary solution that would allow us to fly as scheduled, but we ultimately concluded that the right thing was to develop, design, test and incorporate a permanent modification to the localized area requiring reinforcement."
He insisted: "Structural modifications like these are not uncommon in the development of new airplanes, and this is not an issue related to our choice of materials or the assembly and installation work of our team."
According to Bloomberg, the Dreamliner remains Boeing's fastest-selling model, with 865 orders from 56 airlines on the books.
It has, however, suffered some cancellations, with Azerbaijan Airlines being the first to walk away from its single order back in August 2008. By February this year, it had lost 33 orders - a figure which reached 58 for the year by June, but offset by 13 new requests.
Just how customers react to the new rescheduling remains to be seen. All-Nippon Airways issued a brief statement which read: "We are disappointed that the first flight of the 787 will be postponed, and urge Boeing to specify the schedule for the programme as a whole as quickly as possible." ®