P2P-defending Prof faces fine, jail - and the trial hasn't even begun
Judge exasperated with Charles Nesson's tactics
---
Harvard professor Charlie Nesson's loony-tunes defence tactics in a file-sharing case against the US record industry may land him in the clink.
The 69-year old co-founder of the New Age think-tank the Berkman Center, is defending former student Joel Tenenbaum in a copyright infringement case, using Harvard undergrads to do the grunt work. However the Judge has already lost patience with Nesson's eccentric pre-trial tactics - which include taping and publishing conversations without the participants' permission, and re-posting the files Tenenbaum shared to the web. It's driven Federal Judge Nancy Gertner nuts, and she's had enough.
"The court's indulgence is at an end. Too often...the important issues in this case have been overshadowed by the tactics of defense counsel: taping opposing counsel without permission (and in violation of the law), posting recordings of court communications and emails with potential experts (who have rejected the positions counsel asserts) on the internet, and now allegedly replicating the acts that are the subject of this lawsuit, namely uploading the copyrighted songs that Defendant is accused of file-sharing," she declared last week.
"In the light of the delays already experienced, and the Defendant's record of treating the court's deadlines liberally, to say the least, he is cautioned that failure to meet the requirements and the time-limits set in this Order may cause him to forfeit crucial elements of his case."
According to attorney Ben Sheffner, who's providing excellent coverage of the case on his blog, Nesson's unauthorized taping and publication puts him in breach of a Massachusetts privacy law. The maximum penalty is five years in jail.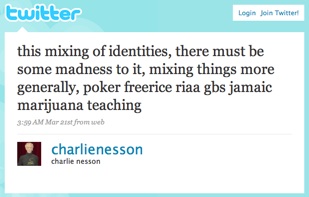 It's part of a commitment by Nesson to post everything - including private conversations - on the interwebs.
In early June, the defence team posted the files to a public server, password protected, and Nesson posted the password on his blog. The RIAA is already recovering legal fees for that caper.
The trial promises to be the highlight of the Silly Season - it's scheduled to begin on July 27. ®