Here's a good one for those of you who might have considered the time-shifting capabilities of Google's Street View: An impressive example of how to project a Woolworths store through a temporal portal...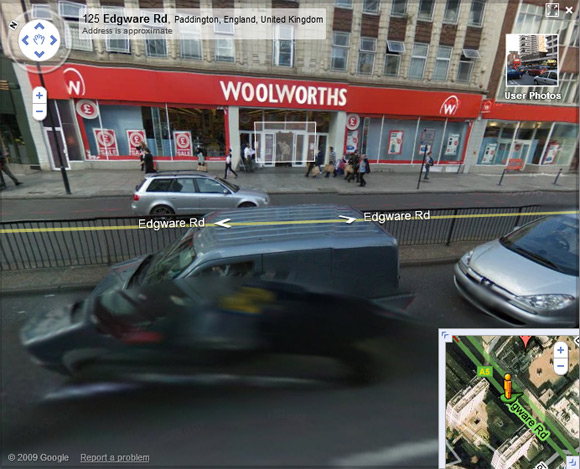 That's the Edgware Road branch of Woolies in London, seen in better days and evidently unaware of the terrible fate which awaits it.
The rectangle hovering over the store's portal is a handy facility allowing you to skip from shopfront to shopfront, without the bother of trekking up the road using the traditional navigation arrows.
In this case, though, double-clicking on the box drags the viewer instantly to a bleak, post-bankruptcy future: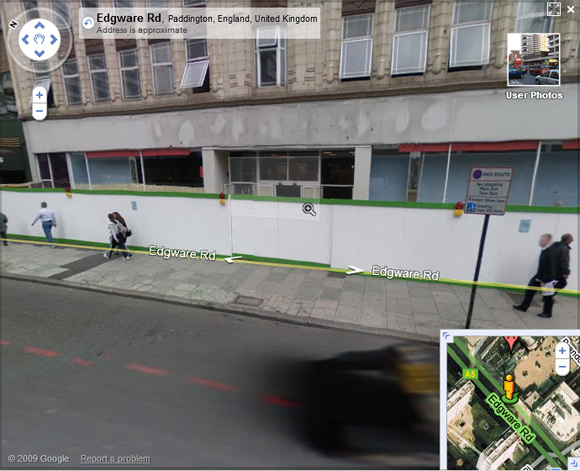 Impressive stuff, which you can try here. All Google needs to do now is send a snoopmobile back to a couple of years into Edgware Road's future and charge anyone thinking of opening a Lebanese Pic'n'Mix store to see if it's worth the bother and they'll still be open by the time the Orwellian black Opel passes by.
Of course, the technical problem here is that if they see the premises boarded up two years hence they won't open the shop in the first place, in which case the image becomes self-fulfilling, so they'd never know whether the business failed or simply never existed.
In case you're wondering what on Earth we're banging on about, Edgware Road is a nucleus of commerce for London's Lebanese population, with various establishments catering for their needs. ®
Bootnote
Thanks to Greg Allen for the heads-up.
Similar topics