Analysis The Royal Navy's new billion-pound Type 45 destroyers are back in the news again for unfortunate reasons, with the head of an influential parliamentary committee saying it's "disgraceful" that they will enter service without their French-supplied primary weapons ever having been fired from the ships.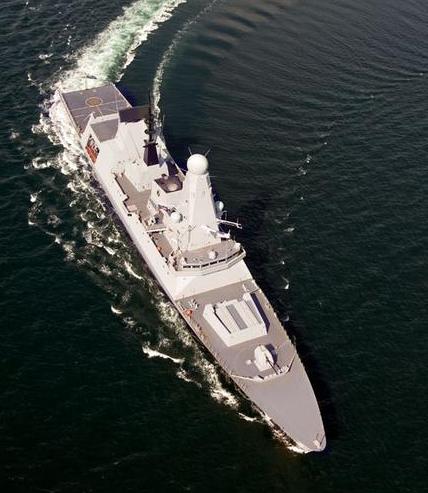 The Royal Navy's first billion-pound gunboat.
The Type 45s are fleet air-defence ships, designed primarily to carry the Principal Anti Air Missile System (PAAMS), which the Royal Navy nowadays likes to refer to as Sea Viper. PAAMS/Sea Viper will use radars - especially the Sampson masthead firecontrol radar on the ship - and two different kinds of French "Aster" missiles to shoot down airborne targets.
At the moment, though Type 45s have been launched and the first one, HMS Daring, is now steaming around with a naval captain and crew, PAAMS/Sea Viper isn't ready to go. As the Commons Public Accounts Committee points out in its latest report, the ships won't really be completed for at least two years.
There have been a number of problems on the project, meaning it will enter service over two years late and £1.5 billion over its original budget... Although the Type 45 will enter service in 2009, it is a disgrace that it will do so without a PAAMS missile having been fired from the ship, and will not achieve full operational capability until 2011. Other equipments and capabilities which will enhance the ship's ability to conduct anti-air warfare operations will not be fitted until after the ship enters service in some cases.
The six destroyers for the navy are now projected to cost £6.46bn, up by £350m just in the last 18 months. In addition to PAAMS/Sea Viper, they are intended to carry basic 4.5-inch "Kryten" gun turrets and a pair of single-barrelled, manually aimed 30mm cannon for such tasks as shooting up pirate dhows, small boats etc.
Space has also been included in the design to fit much more powerful Phalanx gatling robocannon, useful for last-ditch air or missile defence, and/or Tomahawk cruise missiles. However, no money is planned in for these latter refinements. While the navy will probably manage to cannibalise a few Phalanxes from retiring ships in coming years - meaning that it can perhaps put some on at least those Type 45s it sends to dangerous regions - Tomahawk is only a dream.
Right now, rather sadly, HMS Daring is sailing around with nothing but her 4.5 and a brace of 30mms - a rather pathetic capability for a £1.1bn ship with a crew of 200. Her captain's brave boast that she is "the most capable Air Defence Destroyer in the World" will ring more than a little hollow until at least a couple of years have passed. He'll most probably have moved on by then, as he's already been in command for over a year.