MS no-frills security scanner gets thumbs up in early tests
Security Essentials does what it says on the tin
---
Microsoft's limited but free-of-extra-charge anti-malware scanner has performed creditably in early tests.
Independent testing lab AV-test.org put Microsoft Security Essentials through its paces, after downloading a beta version of the software following its limited release on Tuesday.
The application, which lacks personal firewall or spam filtering features, is designed to provide consumers with basic protection against Trojans, computer viruses and rootkits.
AV-test.org ran 32 bit versions of the software on Windows XP (SP2 and SP3), Windows Vista (SP1 and SP2) as well as Windows 7 (RC) machines. It discovered thorough protection against malware known to be in circulation and, more impressively, no false alarms, Andreas Marx of AV-Test.org reports.
We scanned a set of WildList malware (on-demand test) and we also tested the on-access guard with the same set of samples. Our set included 3,194 common virus, bot and worm samples from the most recent WildList 05/2009, released about one week ago.

All files were properly detected and treated by the product. That's good, as several other AV scanners are still not able to detect and kill all of these critters yet. (Extensive testing of the entire collection of malware files we have will take a lot more time, but we will do this in the coming days.)

We've also tested the product against a large set of false positives, but none of the clean files were flagged as being malicious - very good.
Preliminary results suggest that Microsoft Security Essentials Beta disinfects infected systems with some aplomb but, as AV-Test.org points out, this feature merits closer testing. One clear shortcoming is that Microsoft's software lacks behaviour-based detection of malware, leaving users reliant on frequent definition updates rather than generic detection of worms and Trojans. But the lack of more advanced features is to be expected in a product that is clearly defined by Microsoft as basic.
The scanner works with the locally installed anti-virus and anti-spyware databases (it doesn't appear to use "in the cloud scanning" methods). It looks like the databases are updated rather frequently (every few hours), but that's just what we saw today. The Microsoft product doesn't offer behaviour-based protection mechanisms (also called "dynamic detection" of malware), however, most other AV vendors have not integrated such technologies in their AV-only offerings either, just in their full internet security suites, but Morro is definitely not a suite.

We've quickly tested the product's anti-rootkit and system disinfection capabilities (when a malware is already installed and active on a system) with a few samples and found no reasons to complain. Morro is able to remove found malware very well, but further tests against larger sets of samples are required before we can come to a final conclusion.
Much in information security, and IT in general, is down to fashion. So is Microsoft Security Essentials more Magnum than Blue Steel?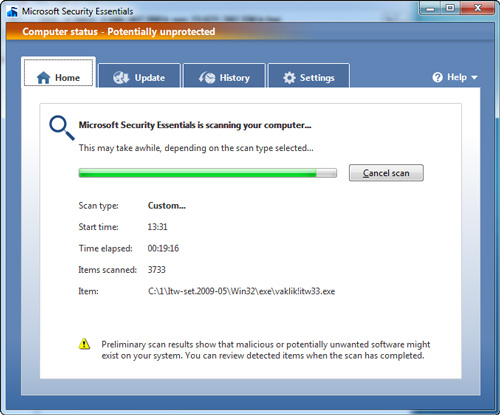 Marx reports that the GUI of the product is more akin to Microsoft's corporate anti-malware client, Microsoft Forefront Client Security, than OneCare, its discontinued paid-for consumer security software. ®