This article is more than 1 year old
Nokia N97
Mobile content creation tool, anyone?
However, the wisdom of this design is debatable, since the amount of surface area that can subsequently be devoted to the keyboard is small. What results is a three-row keyboard with tiny keys and some odd placement decisions. The spacebar is small and to the right of the M key, while the shift key is over on the left, just below the D-pad. So, some of the commonest characters, such as the comma, exclamation mark and dash, require a shift character. It's nuts.

We've seen worse keyboards, but not many
For navigating voice mail systems, and for telephone banking, you'll probably want to give it up altogether, and activate the virtual keypad. That's because numbers require the modifier key, which isn't 'sticky' - you need to keep it pressed down, or press twice rapidly - then twice again to turn it deactivate it. Many applications make use of the hash and asterisk keys on a standard phone keyboard, which also need the modifier.
If you're looking for speedy Qwerty input on the go, the E75, and even the E71 will do a far better job. Potential migrants from Nokia's Communicator series – all of which boasted a five-row keyboard – must sacrifice a lot of the comfort factor. The E90, for example, had 60 keys plus the traditional eight application shortcuts. The N97 has just 33.
Comma and full stop share the same key, for example. The spacebar is small, and too far to the right. There's no Ctrl key either. Hence, in this firmware build, at least, there's no keyboard accelerator for cut and paste. Instead, you have to poke around the screen menu. Indeed, the lack of keyboard modifiers discourages software authors from building keyboard accelerators, one of the things that made Nokia's older Communicators so easy to use. Since the device is marketed as a vehicle for 'content creation', text composition is far harder than it need be.
Navigation and input are made even more onerous by the D-pad, which is over on the left, and very deeply recessed. Future designs should look at incorporating an optical D-pad, preferably on the screen portion of the device, thus making room for a larger keyboard.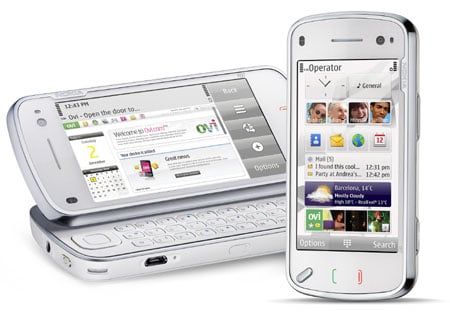 As a content creation device, text input is awkward
The hair-trigger camera button was a nuisance. Manufacturers often make them too hard to activate quickly, and yet this one is the opposite. Also, for a media device, one major disappointment is the external speakers. They deliver little more than a 6230i's single, mono, loudspeaker and are a strange choice after the marvels built into the N95.