This article is more than 1 year old
Nokia N97
Mobile content creation tool, anyone?
The N97 was consistently responsive. The only annoying delays were in the camera application and gallery. When the device is slid open, the screen re-orientates itself into a landscape mode, but this wouldn't take more than two seconds, and only once took as long as five seconds.
Answering calls when the screen is locked is far from obvious. Two sliders are offered: Answer and Unlock, the latter giving you the option to reject the call. The problem is that both controls look much more like buttons, so pressing them won't do any good. Still, call quality and RF reception were excellent, although the RF read out was quite sensitive for a Nokia, with more fluctuation than we're used to seeing.
Battery life was even more impressive, given that the N97 is shunting around 230,400 pixels, 50 per cent more than an iPhone or a Pre, with brightness on max if you're outdoors. Thanks to the stalwart 1500mAh battery, I was assured of a full day's use. Leave autolock on, and beware of the power-guzzling uses such as Bluetooth audio streaming (A2DP) and the loudspeaker. Annoyingly, Nokia has followed the trend of displaying the battery charge based on recent usage. This assumes we're too thick to anticipate our own usage. Just tell me how much is left, please.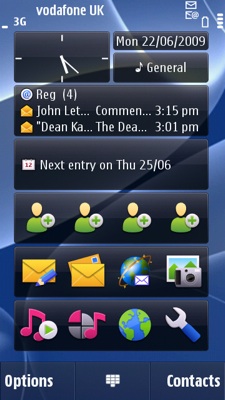 Home screen with the N97 closed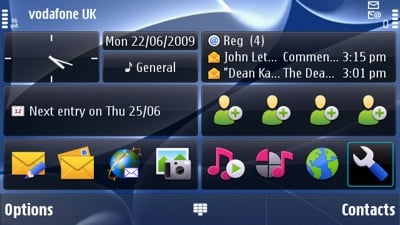 Home screen with the N97 horizontal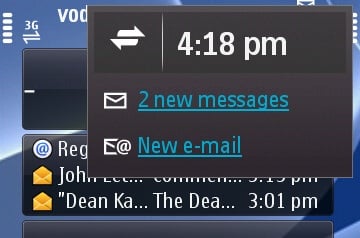 Notifications area: nice feature, could get even better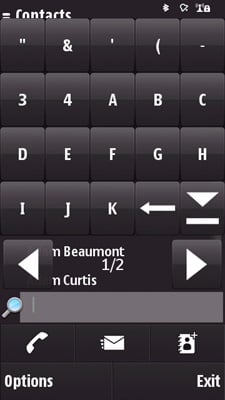 This is a feature, not a bug
This is not a bug, it's a feature. It's what you see after following a very simple, and common, sequence of events. The phone is closed (in tablet mode) and you want to make a call. You then go to the address book - but your address book has too many entries to scroll through, so you begin to type a name.