This article is more than 1 year old
Nokia N97
Mobile content creation tool, anyone?
One unwelcome feature is a tragic bit of moralising. The following dialog box appears every time you unplug a power supply. Not once, every time: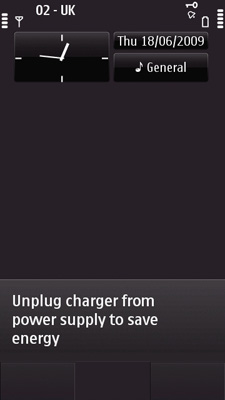 Humanity needs an abundance of cheap energy – not miserly, preachy nagging.
Sorry, Nokia - but if you want to be thought of as a company that looks to the future, one that has faith in the human capacity for inventiveness, then you should stay clear of the miserable, sanctimonious eco-nagging. It has been a vote-loser for politicians. We offer this as a starter reader for executives interested in the future of energy.
Nokia's Web browser is much improved, and with rendering and reload delays diminished, it's finally a viable option. It can now do kinetic scrolling, pinched from the iPhone, and toggle between full-screen browsing and a truncated width view with toolbar. However it's still not possible to open a link in a new page, so you'll need to rig up a cunning workaround – save a bookmark as 'about:blank'. Here, the competition is streaking ahead.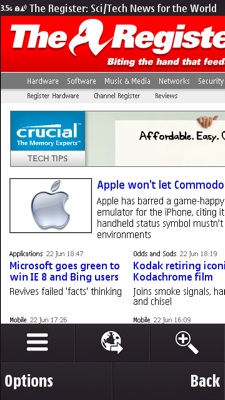 Despite 50 per cent more pixels, browsing in tablet mode isn't as slick as the iPhone or Pre
There's another homage to the iPhone: the browser zooms in on the web page in response to a double tap. Unlike the iPhone, which fits the text to the page, this simply zooms in on the text around the tap - not very useful. The N97 browser did a decent job of rendering most web pages, but stopped with Flash content. Don't bother looking up an act on MySpace. It's with the browser that I really noticed the absence of keyboard shortcuts. Again, as with its predecessors, Nokia doesn't permit you to change the default browser.
It's best to gloss over the Messaging situation. The N97 doesn't come with Nokia's new email client, which is called Messaging, and defaults to the traditional S60 client, also called Messaging and lacks HTML support in emails. Weirdly, the default Mail for Exchange folder (cryptically titled MfE - you have to know what it is), was empty on my review unit.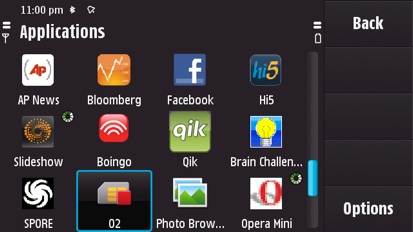 The N97 comes preloaded with lots of apps, but not Opera Mini
I suspect the N97's iPlayer application – which supports DRM-protected downloads, as well as the H.264 streams – will be the feature that users value the most. It works extremely well indeed and, while it isn't a first for Nokia as the N96 also supports iPlayer downloads, the ergonomics of the design really make for a nifty media player.