This article is more than 1 year old
Nokia N97
Mobile content creation tool, anyone?
The N97 sees Nokia at an interesting time. It's schemed smartphones for 15 years, but now sees rivals capture the market's imagination. Palm's Pre ups the stakes considerably, showing that boldness and imagination isn't confined to Apple. Vodafone's Android phone has a lovely UI and is something you could safely recommend to a relative.
Instead of real innovation, Nokia is relying on its big name brand and just adding features to compete. Its hardware engineers match anyone's, but it has a huge structural problem in delivering enchanting devices into users' hands.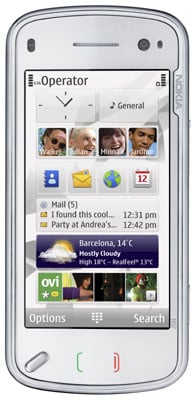 Are multiple features a substitute for innovation?
Nokia has a double bind. It's committed to Symbian, which means it has to maintain a 'platform', licensed via a quango to all-comers, as well as ship products. It's also in a bind because the Symbian features that will help make it competitive are still in the labs. It's probably time to shoot that organisational model for good, and devote every penny of Symbian R&D to making its phones better.
So, I predict that the happiest customers of the N97 will be punters who've never read a phone blog, or visited an Internet phone fan site. Nokia puts great store by 'social media'. The 'buzz marketing' theory – sold to the company by consultants, and at great expense – is that these enthusiasts, with their arcane dialogs and weird obsessions, are tastemakers on behalf of the rest of us. But they're not, they simply poison the water for the company, and cause great harm when a half decent product ships. I don't know why Nokia bothers; it's like wrestling pigs - Nokia gets dirty, and the pigs enjoy it. What a waste of money.
Verdict
Nevertheless the N97 sort of scrapes by, for now. It's fast and responsive, the worst bugs will are certain to be fixed, and the most violently ugly parts of the user experience will be quietly thrown overboard. That leaves an OK iPlayer, an OK music player, and a phone. Put the N97 against the iPhone or the Pre, and the comparison isn't flattering, but put it against another subsidised midrange offering, and it might find a loyal customer. ®
More Phone Reviews...
| | | | |
| --- | --- | --- | --- |
| Apple iPhone 3G S | HTC Touch Pro2 | LG Arena | HTC Touch Diamond 2 |

Nokia N97
With rivals stealing the laurels for innovation, Nokia offers a decent all-rounder, marred only by dire text input options.