CGI Thunderbirds sadly not go
ITV disses Gerry Anderson remake plea
Thunderbirds creator Gerry Anderson says ITV has pretty well scuppered his plans to offer a CGI remake of the classic series - despite his insistence he can raise the £15m needed to bring the Tracy family back to the screen.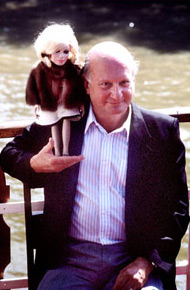 Anderson, 80, told the Daily Mail he's engaged in "a bitter battle" with the TV company's exec chairman Michael Grade over the show's rights, but that while ITV has talked to other people about a possible resurrection, "ageism" has effectively evicted him from Tracy Island.
He said: "When Grade first took over at ITV, I told him I wanted to remake Thunderbirds.
"Since then I've written five or six times saying I want to remake it, and that I'm confident I could raise the money to do so, but it's fudge, fudge, fudge every time I ask."
Anderson added: "I'm not asking Grade to fund it - I can do that. I'm just asking to acquire the rights. He's constantly saying ITV is in a terrible state with not enough commercials - but there would be a huge amount of advertising stimulated by Thunderbirds, and it's the perfect rival to Doctor Who on the BBC."
He lamented: "I know people love the show. I get told every day of the week. Frankly, it's the most important thing in my life that I remake it. Not being able to do so is tearing me apart."
An ITV spokesman offered: "We are extremely proud to represent Thunderbirds, which we have taken to millions of fans around the world. ITV recently co-produced a special documentary, All About Thunderbirds, for the BBC and we are always open to developing new and exciting opportunities for the show." ®
Anderson produced 32 episodes of Thunderbirds between 1965 and 1966. ITV did back a CGI rehash of Captain Scarlet and the Mysterons which first appeared on Ministry of Mayhem in 2005. ®