This article is more than 1 year old
Vivitek readies UK debut of world's first LED Full HD DLP projector
Impressive. Most impressive
Californian presentation and display technology company Vivitek is launching a full-frontal assault on the UK projector market, with the launch of the H9080FD, billed as the world's first LED Full HD DLP home cinema projector.
Vivitek plans to launch some 30 DLP projectors aimed at all sectors – corporate, education and consumer – with prices ranging from around £400 to £11,000.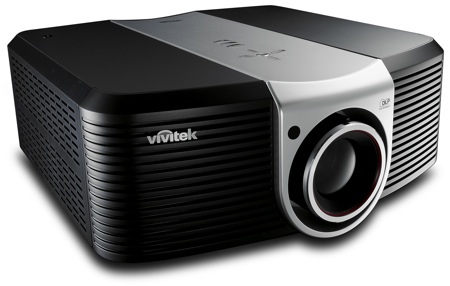 Vivitek's H9080FD: three-chip DLP performance from a one-chip system?
Vivitek's first product, the H9080FD, uses a single Digital Micro-Mirror Device (DMD) chip, but Hsu claimed its performance is closer to that of a three-chip projector. The H9080FD uses an LED light module to produce three - red, green and blue - light sources and an LED-driving algorithm to emulate the function of the mechanical parts - the colour wheel and the shutter used in conventional DLP home cinema projectors.
"There's no colour wheel, so you don't get the rainbow effect that some people see with DLP projectors," claimed Vivitek Europe chief, James Hsu.
Certainly, the demonstrations we saw, in admittedly less than ideal viewing conditions - a hotel room - were impressive. Using Blu-ray Discs played on a PS3, we watched a nature documentary and the opening car chase from Quantum of Solace.
Having an LED array rather than a conventional UHP lamp has other benefits too, including instant switch on and off; long life - Vivitek claims a lifetime of 20,000 hours or around ten times that for a lamp - and linear image degradation: after 20,000 hours, original brightness is still at 60 per cent, Vivitek said.
"You won't have to buy a replacement light module, because by then, you'll be ready to buy another projector," said Hsu.
The H9080FD uses a 0.95in DMD chip. It supports a full HD 1920 x 1080 resolution, with a brightness of 800 Lumens and a 100,000:1 contrast ratio. The lens throw is 1.85-2.4 - an optional short-throw lens is available - zoom ratio 1.3:1 and native aspect ratio is 16:9. It is designed for screens ranging from 22.5-300in in size.
PC compatibility covers VGA to WSXGA resolutions, plus Mac. Inputs include two HDMI 1.3 ports, component-video, BNC, VGA, s-video and composite-video terminals. It's a beast of a projector, measuring 520 x 224 x 548mm and weighing 16.6kg. That said, it's very quiet in operation (25dBA), thanks to four small, slow-running, cooling fans and a large heat sink.
Asked whether it was a good idea to be launching into the market at a time of a deep recession - and when a number of players are pulling out of the projector market - Hsu said: "Some companies are moving out and that's fine for us. We believe that competitive pricing, innovation and good performance will help us grow in the UK market."
The H9080FD will be available in early July and will cost £10,995. ®
Projector Reviews