Funny colors and wavy sidewalks
I'll wrap up this test of brightly lit scenes with two oddities: the Palm Pre's predilection for tossing in oddball color tinges, and the iPhone 3G's tendency to emulate the Great San Francisco Earthquake of 1906.
Color craziness: First a caveat. When I brought to the attention of the good folk at Palm the Palm Pre's odd tendency to toss an occasional color cast over its photos, a spokesperson told me that "the situation you described has not been seen on other devices" - meaning, of course, other Palm Pres, not any other devices in the known world.
Now, this may or may not be true - I don't have a half dozen Palm Pres at my disposal to test to see if the one they supplied me with is a lemon. That said, the color errors and inconsistencies in my test Pre are unmistakable.
Although neither I nor Palm have been able to yet discover the exact reason for the color variability, we both theorize that it's caused by inconsistency in the camera's automatic white-balance settings, which causes shifts in the color temperature - and thus, the overall color cast - of the image.
I also discovered through trial and error that the color variability is affected by the Pre's flash settings. When the flash is turned off, color is relatively consistent from shot to shot - not necessarily accurate, but consistent. When it's set to Auto, things start to get wonky. And when Flash is turned on, some truly wacky results can appear. Not always, but often enough to be a pain.
Check out these three pairs of images, for example: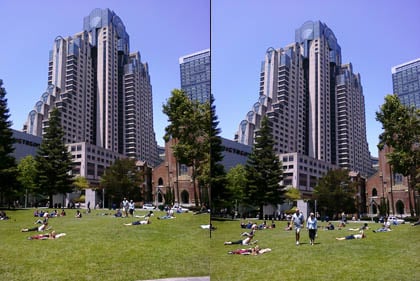 Two Palm Pre shots taken with flash off - consistent, if incorrect, color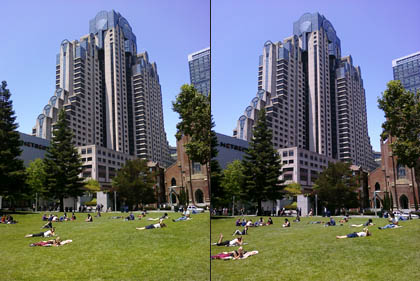 With flash set to automatic, shot-to-shot colors begin to diverge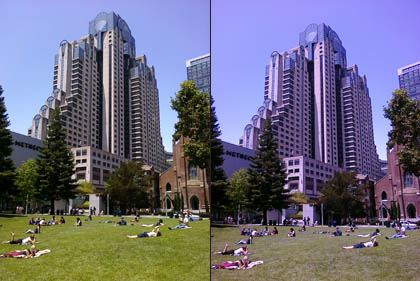 Turn on the flash and turn on wild inconsistencies
A few notes on these tests: First, even though the flash was set to Auto in the second pair of images, it didn't fire for either. Second, the zany pink Marriott Hotel in the bottom-right image is the worst the color cast ever got - I included it merely to demonstrate the range of color craziness I experienced. Third, using a flash is lunacy on a bright sunny day, but I also experienced color variability when using the flash for standard indoor shots.
Again, Palm says that the problem may be confined to my individual test Pre. But, hey, it may exist in yours as well.
Wavy walkways: After taking a boatload of photos with the iPhone 3G, with both Software 2.2.1 and 3.0, I noticed that it would sometimes play havoc with geometry - buildings would wiggle in middle floor, otherwise-rigid pillars would appear more supple than they should, and walkways would bob and weave.
Cases in point (details from larger images):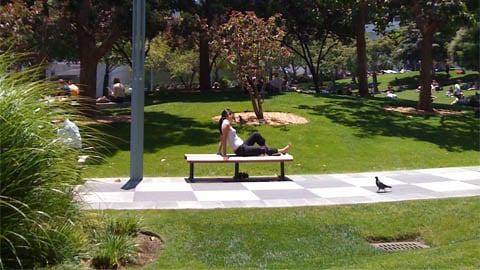 Reality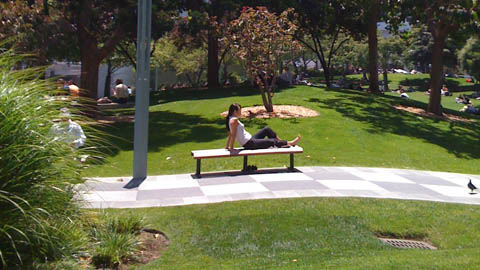 3G-induced fluidity
I didn't encounter this problem with either the iPhone 3GS or the Palm Pre - though perhaps I should spend an afternoon shooting horizontal and vertical grids, just to make sure.
But I'd rather not. Personally, I've got a Nikon D90 on order that should arrive in a couple of days. I'm done with cell-phone cameras.
Cell-phone cameras may have improved greatly in recent years, but they're still essentially toys, useful only for not-to-be-missed surprise moments, unexpected celebrity sightings, surreptitious peeping, and the occasional revolutionary uprising.
Of the cameras I tested, the Pre would squeak by as the winner were it not for its annoying color problems. The iPhone 3GS's tap-enabled exposure could be a boon if used carefully, but the camera didn't prove itself to be as sharp as the Palm Pre. And if you own an iPhone 3G, the camera improvements offered by iPhone Software 3.0 are yet another reason to upgrade.
Bottom line: If you want to take real photos, get a real camera. ®
Similar topics