Fifty Quid Bloke, meet Spotify's 14p man
The first real numbers tumble out
---
The Imelda Marcos factor
Publisher David Hepworth popularised the phrase in a 2003 speech to the BPI. Word magazine's Andrew Harrison defined him for us.
"It's someone who buys CD box sets like women buy shoes, they make him feel good. Then he takes them home and never listens to them."
The phrase stuck because from the beginning of the decade on, the 40 to 49-year-old age group had overtaken the 12 to 19-year-olds in the amount they spent on recorded music. But competition was always tough for 50QB's dosh - as this graph shows.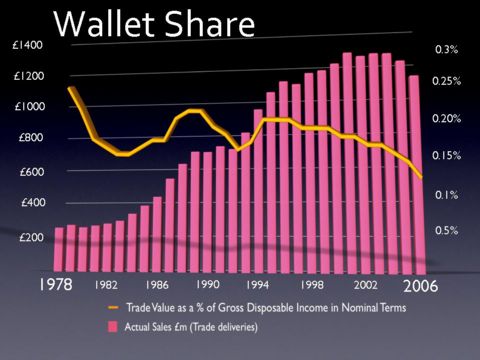 Music revenues vs "wallet share" [click to enlarge]
Spotify's demographic is around 40, and precisely the sort of impulsive media buyer defined by 50QB. (50QB was always a big internet user, the first on the block with broadband, and likely to be the first to use new services, either licensed offerings like Spotify, or unlicensed ones, like Oink.)
The puzzle - as we raised here - is why the major labels seem so content to back Spotify, which encourages customers to defer purchases (the music's always there), which ensures someone else bags the Fifty Quid - such as games or movies companies.
Unlicensed services such as Bittorrent trackers provide a "box set" experience, of sorts. Pirate Bay's Top 50 include fan-made compilations of Pink Floyd, Coldplay and "Rolling Stone Magazine's Top 500 Songs of All Time"; and much of that music will lie around on a hard disk without even being played once. So the consumer demand that 50QB represents still appears to be there, but the demand isn't being met with licensed services. It's hard to see how the major labels' enthusiasm for Spotify helps meet it.
In the next instalment of the Great Spotify Mystery, we'll examine how long the business can be sustained. ®
Similar topics
Narrower topics