This article is more than 1 year old
Wikipedia kills legendary journalist
Points deletion-gun at sadly departed Swells
Say what you like about Wikipedia, you can't accuse it of lacking tact. Within 48 hours of the untimely death of music journalist Steven Wells, his entry has been summarily marked for deletion on the grounds that he isn't famous enough.
Swells, as he was known to readers of the NME, began his career as punk poet Seething Wells and snuck into music journalism as Susan Williams. He became infamous for his provocative writing, which took the form of uniquely splenetic, caps-augmented splutterfests crammed to bursting with swears. Fans of Sonic Youth and the Smiths, into whom he laid with great vigour, would be incensed, but many readers were thrilled by his unapologetic screeds - and far from simply hating everything, Swells would shout just as loudly and swearingly in support of the music he loved.
In recent years he wrote regularly on sport for the Guardian and was a columnist for the Philadelphia Weekly, wherein he wrote - harrowingly, but hilariously - about his illness and treatment having been diagnosed with Hodgkin's Lymphoma in 2006. He continued writing until his death from the disease on Tuesday, aged 49.
None of this, however, made Wells a sufficiently notable figure to be worthy of his own Wikipedia page. As at time of going to press, his entry - freshly updated in the past tense - is awaiting possible deletion. The article's worthiness has been in question for some time now on notability grounds, but it has been rather brutally updated to the effect that death doesn't suddenly make him all that.
User Mikerichi comments in support of deletion that "Notability [is] unestablished, page almost entirely unsourced. Recent death does not establish notability."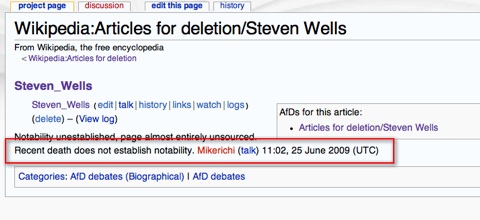 Not as notable as your mum.
As an old colleague and mucker of Swells', we're pretty sure he wouldn't give a flying shitarse. Still, nice to see the hive mind showing such touching respect for the dead, eh?
For anyone who has heard of the obscure git, and indeed for anyone who hasn't, here is Swells' last hurrah. ®
Bollocksnote
A heartening note was placed on the discussion page last year by 'AuntFlo': "I fail to see why anyone would query Wells's notability; he's written for years for the NME and The Guardian, two internationally known publications; many appearances on TV and radio; a number of books; directed videos; political activism; poetry... compared to some of the nonentities who get Wikipedia articles, he's a bloody titan."
Wikipages not marked for deletion as of this date include those of Perez Hilton and Tanya Gold.
Update: After a flurry of 'keep' support, including citation of this article (excellent Wikifeedback-loopage), the deletion notice has been removed. Quite right too.