British MP and Foreign Secretary David Miliband did not Tweet about the death of Michael Jackson yesterday. But this fact was lost on The Telegraph, The Guardian, The Times, The Daily Mirror, The Evening Standard, and the AFP news service.
In their rush to turn Web2.0rhea into news, each was duped into believing that Miliband had joined the attention-span-challenged masses in paying tribute to the late MJ via Twitter. According to The Telegraph at el, Miliband took pause to say "Never has one soared so high and yet dived so low. RIP Michael." Except that he didn't.
Yes, the post appeared on Twitter under the name David Miliband: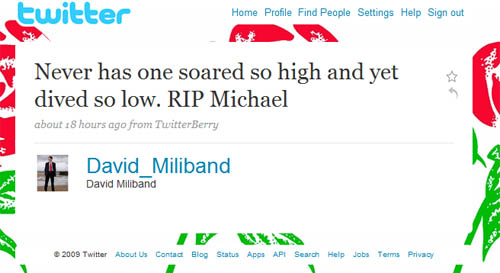 Web2.0rhea/news
But the Foreign and Commonwealth Office has cast some doubt on whether Miliband was actually responsible. "This is an apposite moment for us to point out (as some commentators suspect) that the Foreign Secretary does not have a Twitter account," the FCO said.
The FCO also pointed out that before the death of Jackson, one or two of the same news outlets reported that the Foreign Secretary had Tweeted about the Bob Dylan Concert at the O2 arena - which he did not attend.
Likewise, the Foreign Secretary did not Tweet this:
Finally got rid of the crab lunch from 2 weeks ago. Crows kept ripping bin bags open and spreading it across the lawn. Sorry neighbours!
Or this:
Charlie Wilson's War is pretty amazing, probably shouldn't watch it in a slow week though!
Or this:
Thanks goodness the crop jellyfish was a hoax. An intern just informed me aliens are definitely in the FCO remit!
The Guardian has spanked itself and corrected its story. But the story still insists on repeating a Tweet from Demi Moore. ®