Telco 2.0 There is an ongoing debate about the size of the losses at YouTube and for how much longer the parent, Google, can afford to fund its errant child's excessive lifestyle. Credit Suisse put a high price on it; Brough Turner criticised their analysis; RampRate decisively debunked it.

The debate has focused upon YouTube as a standalone service and little attention has been given to the spin-off benefits accruing to the parent. Google controls a significant and growing share of the means of production of the entire internet industry. We argue that ownership of YouTube is a crucial ingredient for Google's control of the economic rent that Google extracts from the whole of the Internet value chain.
We believe that YouTube is used indirectly to drive profits at the parent, and that Google is currently incentivised to keep these profits hidden from prying eyes. The key indirect benefits accruing to Google of owning YouTube are as follows:
YouTube gains Google a critical slice of growing online video eyeballs, which will attract more marketing dollars to the Internet as a whole. This is much more important in the USA, where the main competitor Hulu is ad-funded than the UK, where the BBC iPlayer is taxpayer funded;
YouTube gains Google yet more important meta-data which can be cross-pollinated with data from other Google services;
YouTube traffic strengthens Google specifically in peering negotiations and generally in network design;
YouTube is probably a small fraction of Google's overall cost base, and the spin-off benefits from lower overall unit costs;and
YouTube positions Google very powerfully for a key role as a gatekeeper in the copyright world.
This article explains these indirect benefits in detail and explains a strategy for telcos to adopt in the online video world.
A rising tide raises all boats
On a macro level, the more 'eyeballs' and time spent on the internet, the bigger percentage of advertising budgets that advertisers will allocate to internet marketing. Compelling content is an essential attractor of 'eyeballs'. For Google with its massive share of the internet market, it doesn't matter quite as much whether the video stream itself is monetized today as long as it picks up a share of the increase in the overall digital advertising budget.
Video viewing is becoming increasingly significant: 78.6 percent of the total US internet audience viewed online video. The average online video viewer watched 385 minutes of video, or 6.4 hours.
And Google's share of the Advertising Pie keeps on rising.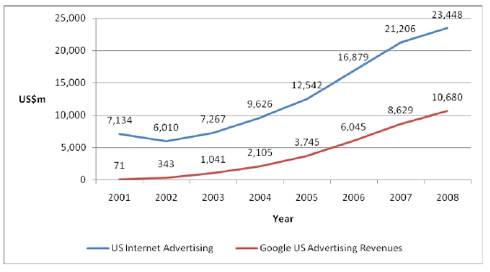 Source: IAB/PWC Data and Google SEC filings
How much revenue does YouTube contribute? Unfortunately, Google's does not publish these figures. Credit Suisse in their infamous analyst note estimates YouTube 2008 advertising revenue at only US$200m (associated with overall losses of US$470m) and the IAB/PWC data estimates video advertising at only three per cent of the overall internet advertising market.
Similar topics