Great Australian Firewall to censor online games
Must suit the 15-year-old mind
---
The Great Australian Firewall will try blocking websites that host or sell video games not suitable for children under the age of 15.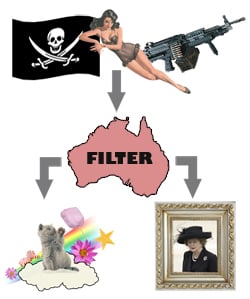 A spokesman for Senator for Victoria Stephen Conroy told The Age on Thursday that the government's internet censorship regime will extend to downloadable and web-based games that don't meet Australia's MA15+ rating standard.
Because Australia's classification board currently lacks an adult R18+ rating for video games, games which exceed the impact of what the MA15+ rating allows are refused classification, making them illegal to sell or exhibit in the country.
Although games have historically received more lenient ratings in Australia than other countries, recent high-profile bans include Fallout 3 for depicting power-ups as syringes, tablets, pill bottles, and a crack-type pipe. The game was eventually cleared for release after modifications were made.
The government's decision would mean even Australians over 15-years-old will be unable to access websites that sell downloadable or physical copies of video games as well as those that host web-based games, The Age reports.
"This is confirmation that the scope of the mandatory censorship scheme will keep on creeping," Colin Jacobs of the Electronic Frontiers Australia told the publication. "Far from being the ultimate weapon against child abuse, it now will officially censor content deemed too controversial for a 15-year-old. In a free country like ours, do we really need the government to step in and save us from racy web games?"
The Oz government is currently undergoing a trial filtering program involving nine ISPs, expected to conclude in July or August. ®
Similar topics
Broader topics