This article is more than 1 year old
Samsung ML-1640
No-brainer budget buy
Review There are a good few people who run two printers; an inkjet for all the colour and photo work and a mono laser for quicker, cheaper, sharper black print. Samsung is looking at the home and one-per-desk customer with its ML-1640 mono laser. With a street price around £50, it's close to being an impulse purchase and puts itself in the second printer market, too.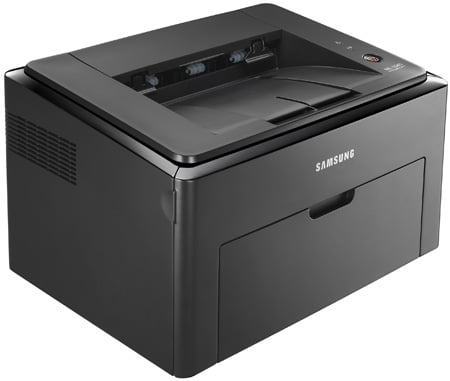 Samsung's ML-1640 mono laser printer
How simple can you make a mono laser printer? Nearly all the engine is in the drum and toner cartridge, so a paper feed mechanism and control electronics are the main extras and the rest is a plastic case. While Samsung's ML-1640 is honed down to the bare minimum, all the essentials are there and, when closed, it has a very small footprint of just 353 x 298mm.
To print, though, the front panel has to be folded down as a paper feed tray and a flap folded out from the top surface to take the output. The tray can take up to 150 sheets of 75gsm paper at a time.
There's no cover for the input tray, so the machine needs to be folded up again at the end of each session, or risk dust and spillages getting on the paper. It may not be a big hassle to put the paper away in a drawer, but rival machines include separate or integrated covers, to avoid this.
Controls comprise a Cancel button, a power and data LED, and a second for low toner. There's a bulge in the case at the back, which takes an IEC mains lead for power on the right and a USB cable on the left. Software comprises a driver and the Dr Printer browser-based troubleshooter.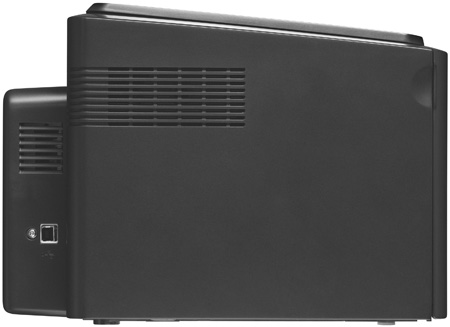 A neat, small footprint, even with the bulge at the back
There are drivers for Windows from 2000 onwards, OS X from 10.3 and a 'Unified Linux driver', which refers to Ubuntu by name, but should work with other variants, too. The driver supports overlays and watermarks and can print up to 16 pages per sheet. There are also instructions for manual duplexing, though no duplexer nor second paper tray is available as an option.