Tesla's first UK showroom opens for business
Roadster Sport debuts
---
Leccy Tech Tesla Motors has thrown open the doors of its London showroom – the firm's first outlet outside of North America.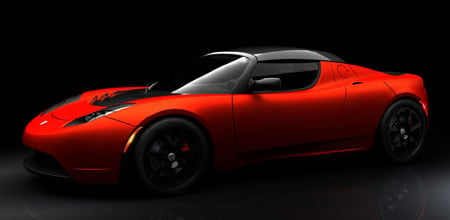 Tesla unveiled the Roadster Sport (above) during the opening of its London showroom
During the opening of its Kensington showroom, the company announced that it has already secured a dozen UK orders for its left-hand drive Roadster.
At the same time, Tesla also confirmed that a right-hand drive version will be available from early 2010.
In the meantime, the first Tesla vehicles will be delivered to their British buyers over the next few weeks. The company said it hopes to shift between 50 and 100 e-cars during its first 12 months of operations in Blighty.
Tesla's CEO, Elon Musk, was on hand at the showroom and said that Europe "had the potential to become a huge market for Tesla, bigger even than the US".
The CEO also whipped the dust covers off the new Roadster Sport, which is 15 per cent more powerful than the standard Roadster.
The sport can reach 60mph in 3.5 seconds - a whole two tenths of a second faster than the vanilla version, according to Tesla.
The Sport's price? Well if you have to ask, then you probably can't afford it. While the standard Roadster will set you back £87,000 ($142,000/€102,000), the Sport will leave you light to the tune of a cool £100,000 ($164,000/€117,000). ®
Similar topics
Broader topics