Review The roll out of Acer's Tempo series of Windows smartphones continues apace with the dual-SIM DX900 and rather unremarkable X960 now being quickly followed by something altogether more shiny and new, the F900 with its eye-catching 3.8in touchscreen.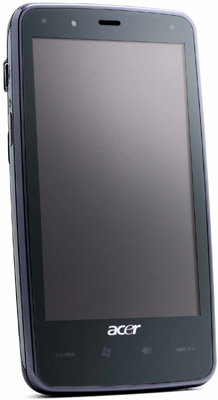 Acer's Tempo F900 Windows Mobile smartphone
The F900's external dimensions are unsurprisingly similar to HTC's Touch HD, the only other 3.8in touchscreen Windows smartphone currently available. At 150g the F900 is 3g heavier while at 117.5x63.5x12.9mm it's also a little taller, wider and thicker. Alas, it's not the looker that the Touch HD is either, feeling altogether more slab-like, lacking the HTC handset's subtly bevelled screen fascia.
Cellular connectivity is pretty much state-of-the-art with quad-band GSM, Edge, 7.2 Mbps HSDPA and 2Mbps HSUPA 3G. As you would expect, you also get 802.11 b/g Wi-Fi and A2DP Bluetooth. The F900 also features an FM radio. While it's not RDS you can input channel frequencies directly via the virtual keypad, it has a handy auto-scan function and can store up to 20 of your favourite stations.
Externally, there's a miniUSB port and on/off switch on the left, while the right hand side of the device is home to a memory card slot, combined up/down/activate control and camera button. We are not sure the left hand side is the best place for a touch screen phone to have its on/off switch – it's far easier to press by accident in that location than if it was on the top of the device. At the bottom of the unit, tucked away, is a slot for the ubiquitous stylus.
Below the screen are four touch sensitive buttons – two to pick up and end calls, one to launch the Today menu and another that works as a 'back' button. The screen and the four virtual buttons below are all endowed with a mild level of haptic feedback and the buttons glow a pleasant blue when brushed.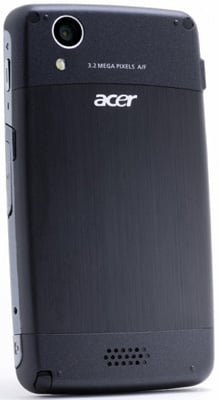 Just a 3.2Mp camera, but a fairly decent speaker
The front of the handset is dominated by the 3.8in WVGA TFT LCD resistive touch screen, with a resolution of 800x480 and support for 65k colours. And a rather nice screen it is too, being bright, crisp and colourful. It's not the most reactive or precise touchscreen we have come across on a Windows device though. Sometimes ticking small check boxes with the stylus required a second or even a third tap. This failing was far less noticeable when it came to navigating around the system and web pages rendered on Opera Mobile using a finger.
Similar topics